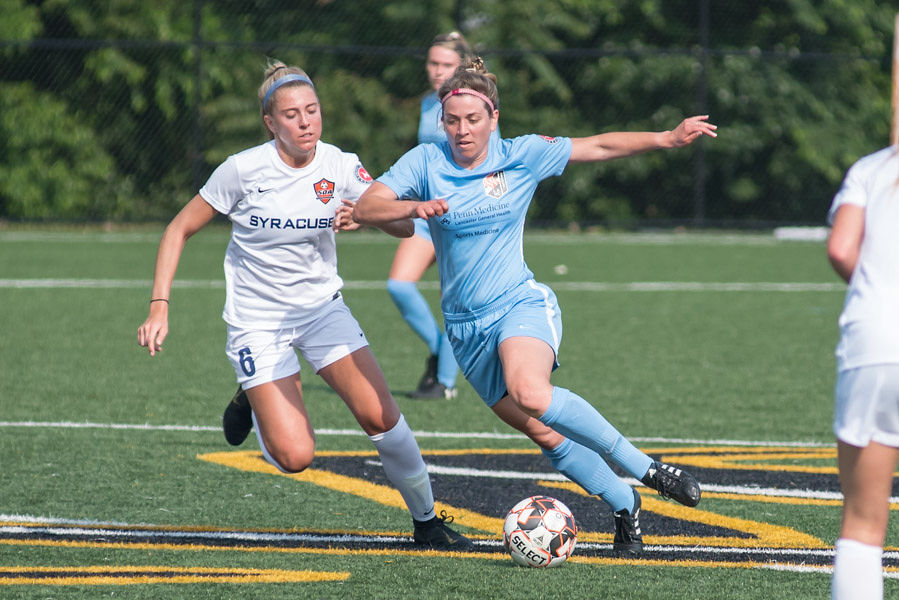 Lancaster Inferno FC is Pennsylvania's only all-girls travel soccer club that provides a player pathway from youth to pro-am.
Founded in 2008, Lancaster Inferno was acquired under new ownership in 2014 to provide high level soccer in Lancaster County. Lancaster Inferno fields a First Team and U23 Team that features aspiring/former professionals, current/post college players, and high school standouts.
The club has earned national recognition in fielding two of the top pro-am women's soccer teams in the country. In 2022, the Inferno launched a year round all-girls travel soccer program in an academy structure that fields one team per age group within a unified pathway.
The overarching goal of Lancaster Inferno is to provide a professionally operated platform for female soccer players. The club has had numerous players sign professional contracts and receive their U.S. Soccer coaching licenses. In addition, the club prides itself in providing positive role models for youth and the community through their Women's Teams.
Inferno Soccer Corp is an approved 501 (c)(3) Non-Profit organization.
Mission
MISSION STATEMENT
To empower female soccer players and coaches by focusing on their development to help them achieve their goals.

Our mission is accomplished by:
Offering more opportunities for female athletes in a professional environment
Partnering with community groups and businesses to keep programs affordable
Providing support to coaches for their professional growth
Fostering a supportive and positive future and community outreach
Serving as role models for younger players

Accomplishments
2023 UWS East Conference Patriot Bracket Champions
2021 & 2022 UWS2 Mid-Atlantic North Conference Champions (U-23 Team)
2021 UWS East Conference Semi-finalists (First Team)
2019 UWS National Semi-finalists (First Team)
2018 UWS National Runners-up (First Team)
2018 & 2019 East Conference Champions (First Team)
Women's Teams
Lancaster Inferno fields a First Team, U23 Team, and U20 Team.
FIRST TEAM
The First Team competes in the United Women's Soccer (UWS) national pro-am league.
Begins mid-May through July
8-10 Game season
Practices 2x per week
Playoff games start following the regular season.
The UWS National Championship tournament (final four) is held during the second to last weekend in July.
U-23 TEAM
The U23 Team competes in UWS League Two.
Begins mid-May through July
8 Game season
Practices 2x per week
U-20 TEAM
The U20 Team features H.S. graduating seniors and standouts within the club, and competes in the U20 division of UWS League Two.
Begins June through July
4 Game season
Practices 2x per week
Youth Teams
Lancaster Inferno launched a year round all-girls travel soccer program in 2022. To learn more about the travel program, visit our Youth Club page.

---
Inferno History Timeline
2008: PA Classics starts Lancaster Inferno, a women's team playing in the WPSL (Women's Premier Soccer League), coached by Doug Harris. The home field is Hempfield High School's athletic stadium in Landisville.
2011: Inferno is no longer under the PA Classics umbrella, and plays under the sponsorship of the Penn Legacy Soccer Club. The team's name is changed to "Penn Legacy Inferno".
2013: Inferno becomes independent, no longer associated with PA Classics or Penn Legacy. The team's name reverts to its former name, "Lancaster Inferno".
2014: Lancaster Inferno is sold to Francisco Cleaves, who also begins operations as head coach.
2015: Inferno changes its home field to Millersville University's Pucillo Field in the Lancaster suburb of Millersville.
2016: Lancaster Inferno leaves WPSL and joins the newly-formed United Women's Soccer (UWS).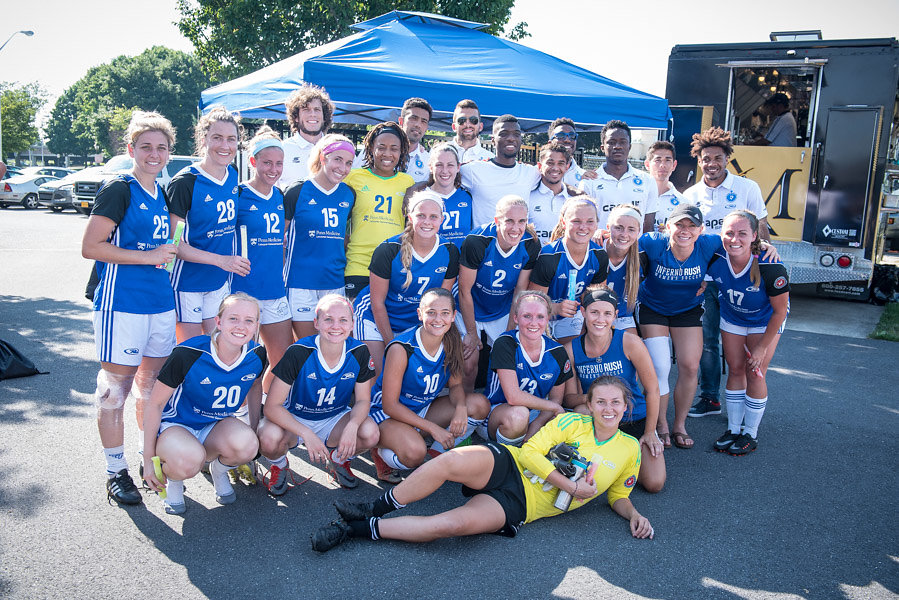 2018: The team enters an agreement with Rush Soccer, to be recognized as the club's top level women's team. The team's name was changed to Inferno Rush, branding under the Rush Soccer brand, along with the USL's Penn FC. In 2018, the Inferno becomes the UWS East Conference Regular Season Champions, subsequently beating the Connecticut Fusion to become the East Conference Playoff Champions. The Inferno travels to the UWS National Championship held in Grand Rapids, Michigan and defeats Grand Rapids FC in the semi-final match. In the final match of the UWS National Championship, Inferno faces the Houston Aces and loses 1-0 at the last minute of double overtime.
2019: The agreement with Rush Soccer is terminated and the team once again reverts to its original name, "Lancaster Inferno". Lancaster Inferno becomes a 501(c)(3) non-profit organization. Inferno adds a second (reserve) team. For the 2nd consecutive year, Lancaster Inferno becomes the East Conference Playoff Champions, winning 2-1 over regular season champions, New England Mutiny. Inferno travels to compete at the UWS National Championship in Calgary, Alberta, Canada. Lancaster Inferno plays host team, Calgary Foothills, in the first round, losing 2-0.
2020: Rob Smith joins Inferno Associate Head Coach. Due to COVID-19, UWS did not have a regular season. Lancaster Inferno and the Inferno Reserves played a series of friendly matches that were closed to the general public.
2021: Lancaster Inferno Reserves are now "Lancaster Inferno II" or "Lancaster Inferno U-23" and play in UWS League 2's inaugural season, becoming the Mid-Atlantic Conference Champions. Wendell Hannaford joins the organization as Head Coach of Lancaster Inferno II. Lancaster Inferno's First Team is a semi-finalist in the East Conference Championship. The club also launches Inferno Summer Select, a program for U12-15 girls. In their commitment to advancing women in the world of soccer, Inferno partnered with EPYSA to host the first-ever all-female USSF National D License coaching course inline with U.S. Soccer's new grassroots pathway.
2022: Lancaster Inferno announces an all-girl's youth soccer program to begin competing in August, 2022. Teresa Rook is named as Youth Club Director. Wendell Hannaford is appointed Technical Director.
2023: Inferno starts a U20 team lead by Head Coach Kyle Diem. Stephanie Cleaves joins Inferno coaching staff as the first female head coach. She is assisted by Rob Smith and Mary Schanne, as well as U23 Head Coach Wendell Hannaford, Goalkeeper Coach Kenny Archer, and Strength & Conditioning Coach, Chris Weibel. Lancaster Inferno won the UWS East Conference Patriot Bracket and travels to the UWS National Championship in Santa Clarita, California.