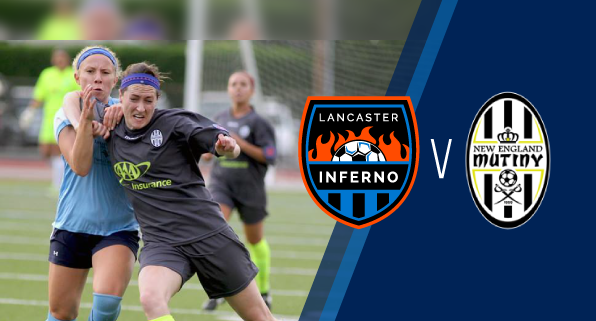 Inferno vs Mutiny Recap
Lancaster Inferno loses 3-2 to the New England Mutiny on Saturday, May 20th.
The Inferno's first game of the season ended up with a 3-2 loss at the New England Mutiny. The Mutiny took an early lead against the Inferno, scoring in the third minute, but Inferno maintained its composure and battled back, dominating play in the second half shutting out the Mutiny's potent offense.
Mutiny's Kate Howarth scored two goals ('3,29) to lead the Mutiny. The second goal broke a 1-1 tie after Infernos forward Haley Crawford blasted a shot 40 yards out. The 3rd Mutiny goal would come at the 29th minute of the first half.
In the 75th minute, midfielder Traci Mohl scored the second goal for the Inferno. The Inferno had plenty of opportunities to tie the game and could not find the back of the net, constantly pressuring in the last 15 minutes of play. A shot from midfielder Tesa McKibben late in the second half almost tied things up after appearing to find its way to the back of the net, but was pulled back by the Mutiny goalkeeper.
Head Coach Francisco Cleaves says,"As a team, I was proud of the way we responded to adversity and came back in the second half, to not only shut-out their offense but also creating plenty of scoring opportunities. If we continue to demonstrate this team play on the field, we will have successful season."