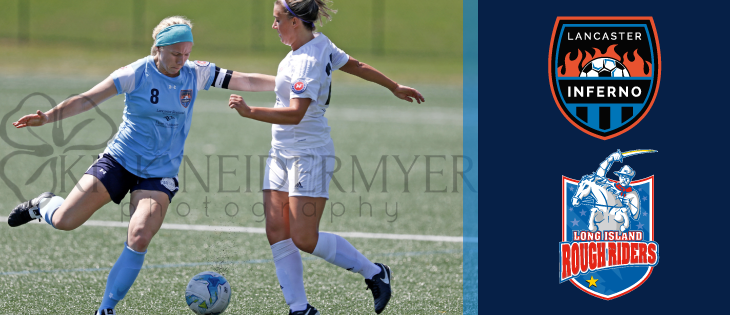 Inferno Falls 3-1 to LI Rough Riders
The Inferno (4-6) lost 3-1 last Sunday to eventual East Conference Champions Long Island Roughriders (7-2-1) in the final game of the regular season.
Playing a more defensive formation, the Inferno scored first on a through ball from Haley Crawford (#16) to Tesa McKibben (#5) in the 38th minute. The Rough Riders kept up the pressure, but were shut out with great defensive play by the Inferno defense and goalkeeper Kelly O'Brien (5 saves) in the first half.
The equalizer came in the 52nd minute on a penalty kick awarded by the referee and converted by Long Island. The game winner came 4 minutes later off a cross into the box that was headed in. The third and final goal also came from a penalty kick.
The Inferno maintained pressure and created some opportunities in the latter part of the second half but shots were off target.
"Our team really demonstrated their character by persevering until the final whistle. The penalty kick call took our defense by surprise and LI capitalized on the confusion by scoring 4 minutes later," states Head Coach Francisco Cleaves.