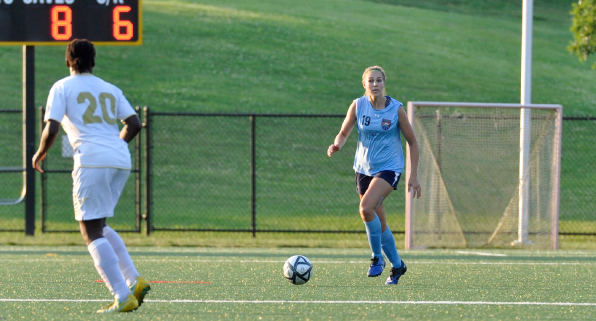 Inferno vs Magic Recap
Lancaster Inferno earns their first win of the season this past weekend. Forward Haley Crawford (James Madison University) scored 4 goals to lead the Inferno (1-1) to their first victory of the season on Saturday in Brooklyn versus the NY Magic (0-1-1).
After conceding an early goal in the first half, the Inferno tied the game in the 22nd minute with a goal by Haley Crawford, assisted by Siobhan Bross (St. Francis University). In the 40th minute, Haley had her second goal assisted by Trisha Clark (Elizabethtown College). Haley scored again in the 44th minute, with an assist from Emilie Kupsov (Longwood University) to close out the half.
The Magic played an offsides trap that caused problems for Inferno's offense and disrupted their offensive chemistry. In the 51st minute, Crawford scored her fourth goal, assisted by Sam Jankowski (St. Francis University). The Inferno had several opportunities late in the game but were unable to capitalize on them.
Head Coach Francisco Cleaves states, "The team is getting used to playing together and it showed as they came together to earn our first win."
The Inferno faces two tough games this Saturday & Sunday against the 2016 East Conference Champions New Jersey Copa FC, and NY Surf who is an official amateur reserve team to NWSL's Sky Blue FC.
Inferno vs New Jersey Copa FC on Saturday, June 3rd at 4:30pm (Saint John Vianney HS)
Lancaster Inferno's Home Opener vs NY Surf on Sunday, June 4th at 3pm (Millersville University's Pucillo Field).