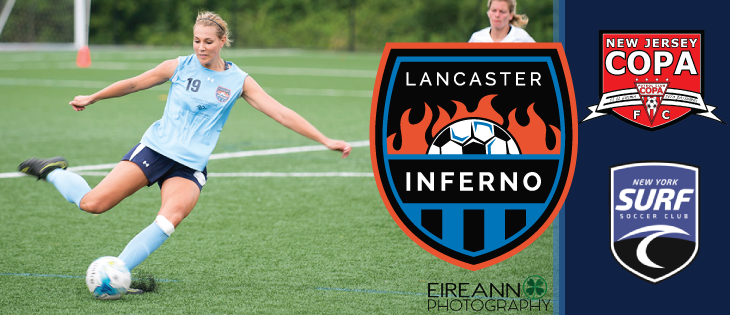 Inferno Battles Back to Even Record at 2-2
Inferno 0 – FC Copa 2
The Inferno faced a back to back weekend traveling Saturday to play 2016 Eastern Conference champions, NJ Copa FC, and hosting their home opener at Millersville University on Sunday against NY Surf, the official reserve team to NWSL's Sky Blue FC.
At FC Copa, the Inferno faced a strong mid-field play which had Copa controlling much of the first half of play. The defense held on until Camille Bowen shot from 30 yds. out to beat Inferno goalkeeper Brooke Myers (#1).
Inferno managed 5 shots on goal but was unable to hit the back of the net. The second half started with the Inferno seeking the equalizer and settled into the game. Several shots by Tesa McKibben (#5), Haley Crawford (#16) and Emily Kupsov (#12) were saved by the Copa goalkeeper. Copa capitalized on a defensive mistake by the Inferno in the 72nd minute. The Inferno continued to press but was unable to score.
"We managed to outshoot Copa but could not capitalize on our counter attacks," states Head Coach Francisco Cleaves.
Inferno 2 – NY Surf 1
The Inferno came away with their second win of the season against a tough and talented opponent in the NY Surf. Playing their home opener at Pucillo Field, the Inferno was led by midfielder Tesa McKibben (#5) who opened the score at the 42nd minute assisted by forward Emily Kupsov (#12). The Surf controlled the play in the first half with efficient passing but the Inferno defense shut down their attack.

The second half started with Inferno pressing on the attack which resulted in a penalty kick goal by Emily Kupsov in the 50th minute after Tesa McKibben was taken down in the penalty box by a Surf defender. The game evened out but the Surf kept the control of play and in the 71st minute, capitalized on a rebound after a great save by Inferno GK Kelly O'Brien (#18). The Inferno created two more scoring opportunities, but could not find the back of the net. The defensive play again was the difference in the game.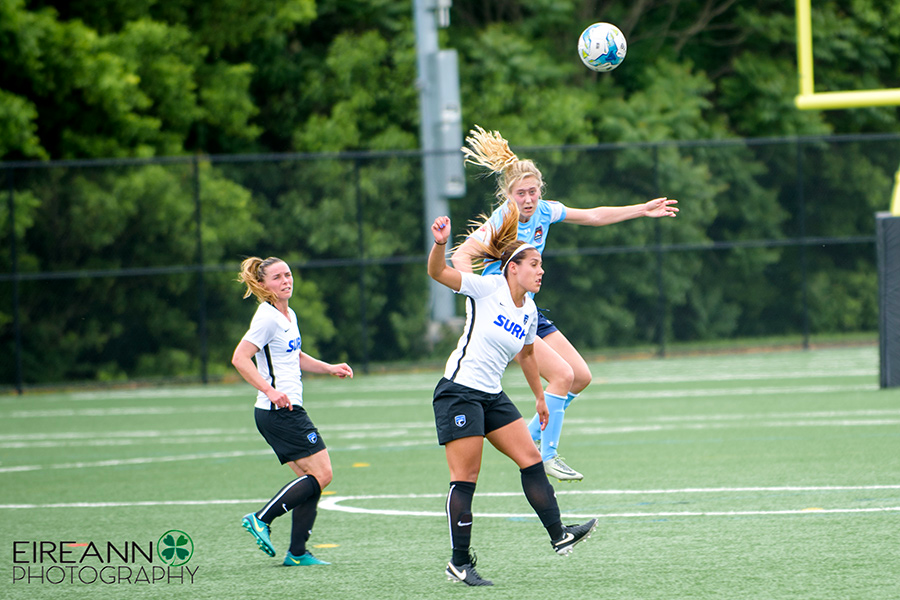 "I am very pleased with the progress we have made as a team and the great attitudes and fighting spirit they have shown through the first four games of the season," says Head Coach Francisco Cleaves.
Read LNP's coverage: McKibben, Kupsov boost Lancaster Inferno to 2-1 win in UWS home opener