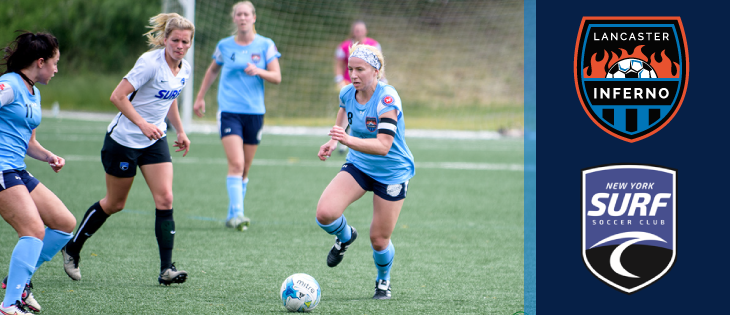 Inferno Falls to NY Surf 3-1
The Lancaster Inferno (3-4 East) lost 3-1 to NY Surf (4-2-2) this past Saturday at Suny Maritime in The Bronx. A goal by Talani Barnett on a cross from Sarah Pallman in the first half put the Surf ahead 1-0 at halftime. Possession was even throughout the game, and the Inferno had a couple of scoring opportunities in the first half with one on a bending corner kick from #8 Trisha Clark.
With the strong wind at their backs in the second half, the Surf upped their pressure and was rewarded with a goal by Meagan Doyle in the 58th minute when she bicycle kicked it off a pass from Trista Seara. The Surf scored again in the 65th minute with a chip over Inferno GK #18 Kelly O'Brien by Fortuna Velau who had come in as a substitute. The Inferno answered back with a goal by #5 Tesa McKibben on a through ball from #10 Siobhan Bross in the 70th minute. The Surf's defense was able to stop Inferno's attack and preserve the win.
"We played them evenly and unfortunately for us they made us pay on two defensive missteps. We have 3 games left this season and expect to finish strong. Our final two matches are against East Conference leaders FC Copa (New Jersey) and Long Island Roughriders," says Head Coach Francisco Cleaves.
The Inferno is back home this Saturday, June 1st at 3PM to take on the Rochester Lancers (0-7-1) at Pucillo Field (Millersville University).