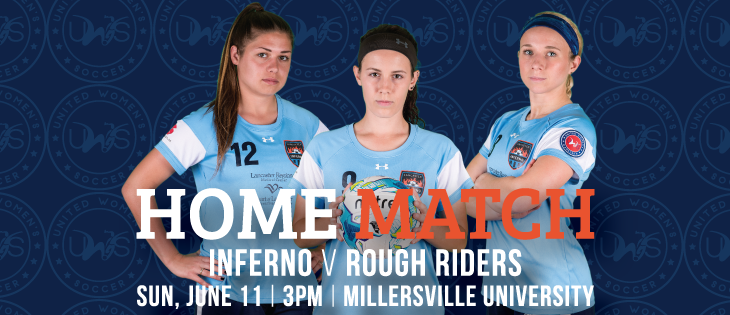 Home Match – Sunday, June 11th @ 3:00 pm
Join soccer fans & supporters to watch high level women's soccer on Sunday, June 11th at 3pm. Lancaster Inferno (2-2) takes on Long Island Rough Riders (3-0-1), currently the first place team in the Eastern Conference of the United Women's Soccer (UWS) league. Enjoy halftime challenges, giveaways, and tasty food from Bountiful Feast food truck.
The Inferno is coming off a 2-1 win over the NY Surf (2-1-1) and currently is tied for 4th place in the conference.
[gdlr_quote align="center" ]"I think last Sunday's win has given more confidence to the team and will help us to be ready to play this week. The Conference is very competitive and every week we are going to be tested." – Coach Francisco Cleaves[/gdlr_quote]
Location: Millersville University's Pucillo (Athletic Drive, Millersville, Pa 17551) – located behind Pucillo Gym
Tickets are available at the door – credit cards now accepted. Admission is $5 / kids ages 5 and under are FREE / Youth Club Partners players & coaches receive FREE admission via link sent by club (applicable to Panthers USA, Penn Legacy FC, Penn Manor SC, Susquehanna Soccer Club & West York SC)