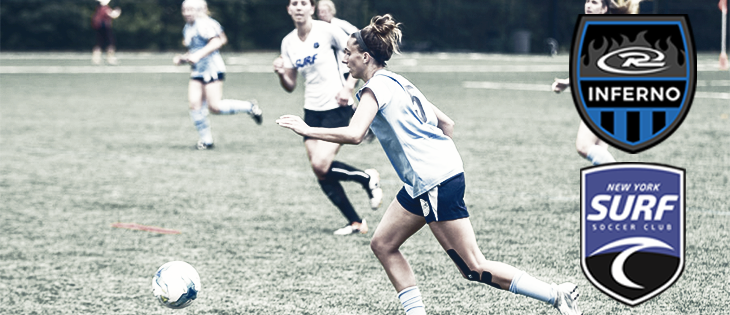 Inferno Rush Fights for 2018 Season Opener Win
The Inferno Rush started the season with a thrilling and hard fought 3-2 "come from behind" victory Saturday in the Bronx against the NY Surf.
The first game proved to be a test to the character and resolve of the team. The game was played in 90-degree weather which affected both teams. The start of the game was controlled by the NY Surf and the Inferno seemed out of sync. "This was the first time we had a real game this season and players have to learn how to play together", said Coach Cleaves.
The play of the NY Surf was rewarded with a goal by Jenna Menta in the 34th minute on a cross from the left side by Faith Daley. The team settled in and Inferno Rush had a couple of opportunities but could not finish. In the 45th minute the Surf struck again after the Inferno lost the ball above the 18 and the Surf's Faith Daley combined for a one-two play with Furtuna Velaj, splitting the defenders and leaving goalkeeper Kelly O'Brien (Lafayette) no chance. The first half ended 2-0 in favor of the NY Surf.
"During half-time we discussed what adjustments we could make. The team, although down, did not panic. I really felt that we had the physical advantage with a full roster and could take it to them in the second half."
The Inferno spark was provided by team captain Tesa McKibben on a beautiful corner kick from Teresa (Rynier) Rook in the 47th minute. The team played with more confidence and the defensive play of Tesa Mc Kibben (St Francis), Marissa Digenova (Temple), Haley Peachey (Millersville), Aubrey Suydham (St Francis), and Megan Cunningham (UConn) held the Surf scoreless. O'Brien was tested a couple of times in goal but was able to make the saves.
The adjustments made at half were working and we had the substitutes available to keep the pressure on the Surf. With 10 minutes left the Inferno pulled on defender and pushed another striker up increasing the pressure on the Surf defense. In the 82th minute Alexis Rostucher (Bloomsburg) fed the ball to Teresa Rook (JMU) who blasted the ball hitting the crossbar and bouncing in the back of the net. The Inferno continued the pressure and Rostucher scored finding the goalkeeper off her line in the 89th minute on a pass from McKibben.
"I am very proud of the character and no-quit attitude the team demonstrated yesterday. The loss of captain Trisha Clark (Elizabethtown College) to injury forced us to make some last minute adjustments to the defensive line. The leadership provided by our veteran players Teresa Rook, Tesa McKibben, and Meghan Cunningham was instrumental in keeping everyone focused."
The Inferno Rush travels to Connecticut for a 7 PM game Saturday June 2nd against the Fusion at the Farmington Sports Arena.