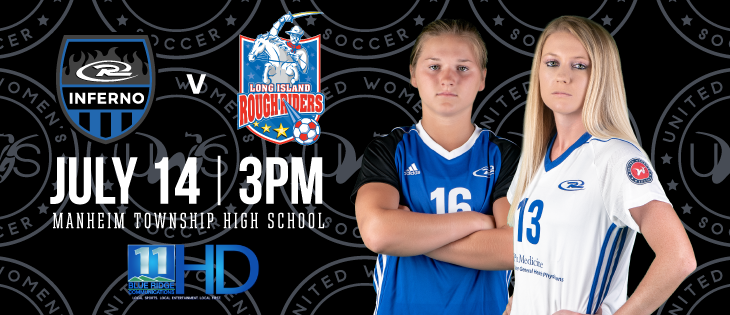 Home Match: Inferno Rush vs LI Rough Riders
LANCASTER, PA – Inferno Rush (7-2-0) hosts the LI Rough Riders (4-3-2) this Saturday, July 14th at 3pm at Manheim Township High School.
The team competes in the United Women's Soccer (UWS) national pro-am league featuring current/post collegiate players & aspiring/former professionals.
Admission: $5 (ages 5 & up) – available at stadium entrance. Youth Club Partners (Ephrata Youth Soccer Club, Panthers United SA, Penn Manor SC & Susquehanna SC) receive FREE ADMISSION (with a pass) for all players and coaches.
United Women's Soccer (UWS) is a national women's soccer league sanctioned by U.S. Soccer. UWS is a professionally operated league created for teams that meet high minimum standards. The season runs from May until the end of July, culminating in a National Championship match. The UWS player pool is comprised of college players, aspiring & former professionals and international stars.