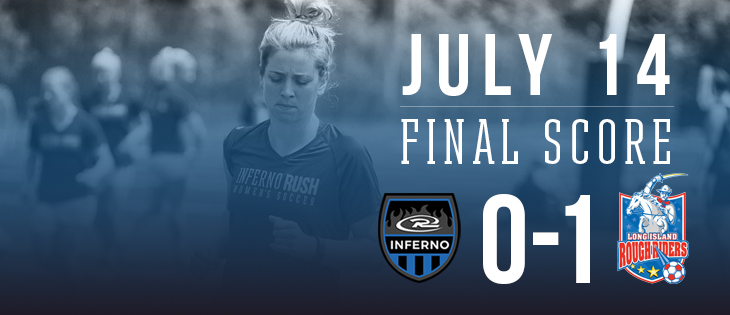 Regular Season Champions Fall 1-0
Inferno Rush faced a determined team fighting for a chance at a playoff spot in the Long Island Rough Riders on Saturday at Manheim Township High School. After a late start to the game, the Inferno seemed sluggish and out of sync. A clear opportunity to get ahead came when Haley Crawford who broke loose, but her shot was saved by the LI goalkeeper. The Inferno struggled to maintain possession and the Rough Riders controlled most of the game. The Rough Riders struck in the 20th minute for the only goal of the game. Inferno goalkeeper Kelly O'Brien made some key saves to keep the team in contention.
In the second half, Inferno regained some momentum and had a couple of clear chances on corner kicks but was unable to convert. The result did not change the playoff for the Inferno who had already clinched the regular season conference championship as the top seed in hosting the playoff game.
I think that knowing that the result on Saturday would not affect our standing hurt our focus. I believe this game was good for our team to get out of our system. The team is re-focusing and looking forward to face our opponent this Tuesday night.
As regular season champions of the UWS East Conference, Inferno Rush is hosting the East Conference Championship playoff game at 7:00PM on Tuesday, July 17, at Pucillo Field on Millersville University's campus. If the team is victorious on 7/17, it will be the first time in the history of the team, that Inferno Rush will qualify for a National Championship Tournament. In honor of the momentous occasion, Inferno Rush is trying to "Pack Pucillo" by offering FREE ADMISSION to the game on July 17th.