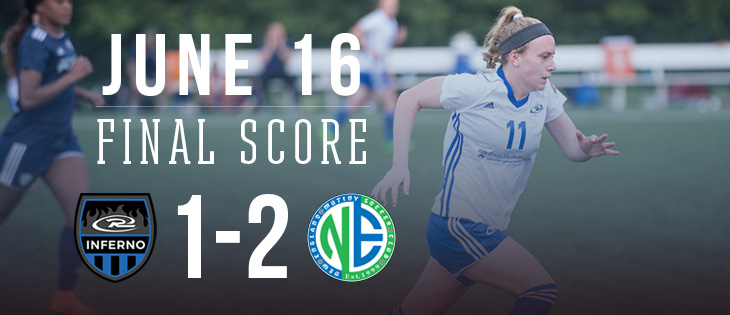 Mutiny Comes From Behind to Beat Inferno 2-1
New England came from behind to beat the Inferno Rush at Millersville University Pucillo Field this past Saturday.
The Inferno attacked well down the flanks creating several scoring opportunities, but many were whistled offsides. In the 25th minute, Haley Crawford (#16) played a beautiful through pass into the box to Megan Carroll (#4), which was barely intercepted by the Mutiny keeper. Inferno's defense and goalkeeper Jenna Hawkins denied Mutiny's scoring efforts, keeping it 0-0 at halftime.
The Inferno scored in the first minute of the second half which was created when outside back Marissa DiGenova (#11) played a penetrating pass to Tesa McKibben (#5). McKibben dribbled past two defenders and placed the ball on the left hand side. Another scoring opportunity came in the 52nd minute when Rene Ross (#10) played a short pass to Kay Liebl (#14), whose shot was deflected over the crossbar by the Mutiny keeper.
Inferno goalkeeper Jenna Hawkins made an impressive breakaway save in the 54th minute. Hawkins was put to the test again in the 69th minute on a Mutiny shot made right outside the 18 yard box.
The equalizer came in the 76th minute when a Mutiny cross was made from the right side by Kate Howarth finding an unmarked Yo Tachibana, who one-timed it into the goal. In the 79th minute, Mutiny defender Brittany Champagne sent a long pass over top of the Rush defense picked up by Howarth, who finished for the game-winning goal.
The Inferno kept up the pressure and had another good scoring opportunity on a shot by Haley Crawford in the 83rd minute. The Mutiny was able to keep possession in the final minutes to run out the clock.
We were effective in creating scoring opportunites – we need to work on finishing them. We cannot afford to miss the opportunities we had against a quality opponent like Mutiny. Our goalkeeper Jenna Hawkins stepped up and made 14 saves to keep us in the game. Our possession has improved but we need to make that final pass a little quicker.
Inferno Rush (2-2-0) is back on their home turf again this Saturday, June 23rd at 3pm ET. Catch their game as they face New Jersey Copa FC (2-2-1) at Millersville University Pucillo Field.
All Inferno Rush home matches are streamed on https://mycujoo.tv/inferno-rush. Next home match will be live-streamed on the mycujoo channel as well as the local cable station, BRCTV-11.