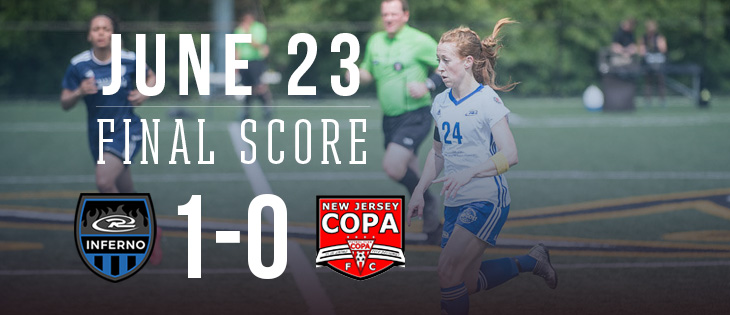 Inferno Outlasts NJ Copa 1-0
The Inferno outlasted NJ Copa FC in a tough match last Saturday. Inferno had most of its scoring opportunities in the first 30 minutes by creating great passing in the attacking third of the field. Inferno finished with 13 shots on goal, with 10 of those coming in the first half.
In the second half NJ Copa FC added more players to the attack but the Inferno defense, led by captain Ashley Chilcoat, center backs Meghan Cunningham, Aubrey Suydam, and right back Marissa DiGenova, earned the shutout while frustrating the Copa attackers.
New Jersey had a great chance to take the lead in the 72nd minute when Mallensy Vargas pounced on a turnover. But Alexis Williams headed the rebound wide, after Vargas' shot hit the crossbar.
In the 77th minute, Inferno put on a beautiful passing sequence that involved passes from Tesa McKibben to Ryelle Shuey to Maura Holst. Holst passed the ball to right back DiGenova who put a pass down the right flank to midfielder Rene Ross. Ross found Shuey outside the 18 yard line, then Shuey one timed the ball to Megan Carroll, who passed the ball over to Kendra Jones. Kendra found Tesa McKibben on the left side, and with a right footed shot placed the ball on the right-hand corner of Copa goalkeeper Courtney Brosnan.
That passing sequence that started with a recovery and switching the field twice through a series of short passes is something we have been working on during our training sessions. We are in a good position with 5 games left to make a run to make the Conference playoff.
Goalkeeper Kelly O'Brien earned another clean sheet and ended up with 5 saves.
Inferno Rush (3-2-0) will be facing a double-header weekend, starting with a rematch against New Jersey Copa at their home field (Saint John Vianney High School in Holmdel, NJ) at 2:00pm this Saturday, June 30th. Inferno will be returning for a home game at Pucillo Field, Millersville, on Sunday, July 1st at 3:00pm vs Worcester Smiles.
Join us for our Sunday, July 1st game where we will welcome some special guests from the Penn FC roster. After the Inferno match, the Penn FC players, along with Inferno players, will be available for a Popsicle Social where you can chat with them and get their autographs.
Thanks to Blue Ridge Communications, Inferno Rush home matches are live streamed at https://mycujoo.tv/inferno-rush as well as the local channel, BRCTV-11.