Inferno advances to East Conference Final
Lancaster Inferno defeated Connecticut Fusion 2-1 in Connecticut on Friday in the East Conference Semifinal at Fusion's home field, Farmington Sports Arena.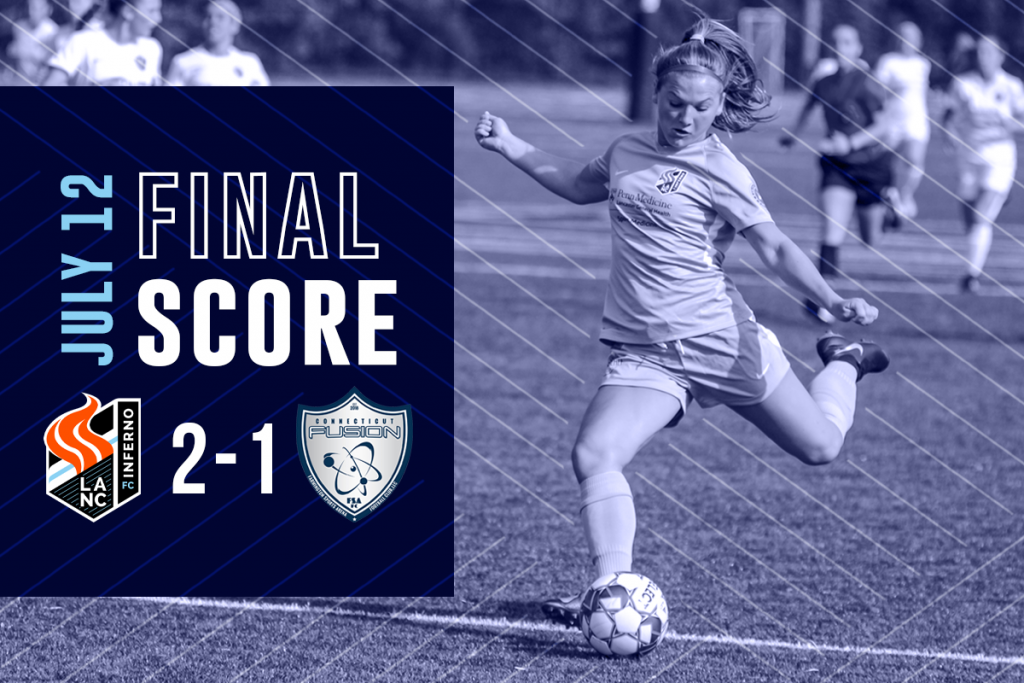 Inferno's first chance to score in the match came early in the game. Less than 5 minutes into the match a corner kick from Teresa (Rynier) Rook (JMU), was met by Sonia Rada (Montgomery), who headed the ball just off the back post.
The Fusion had their own opportunities to open the score but Inferno's great defense and excellent goalkeeping by Kelly O'Brien (Lafayette) kept the game scoreless.
We knew coming into this game that we would need to track back and defend as a team and we did really well at that tonight.

Coach Francisco Cleaves
In the 39th minute Haley Crawford (JMU) recovered the ball deep in Inferno territory and found Rook who dribbled down the right side. Rook passed to Megan Carroll (Bloomsburg) at the 20 yard line, who took a right footed shot, beating the Fusion goalkeeper.
Inferno almost scored again in the 42nd minute when Jackie Richards (Xavier) broke loose, but a great save by the Fusion goalkeeper kept the score at 1-0 into halftime.
This counterattack starting at our own 25 yd line was well executed with both outside mids staying wide, which opened up the middle of the field for Teresa and Megan to connect.

Coach Francisco Cleaves
In the second half both Inferno and Fusion traded possession with no real scoring threats until the 70th minute. Defender Ashley Chilcoat (La Salle) intercepted a pass around the 40th yard line and put a through ball to Crawford, who outran the two central defenders and beat the goalkeeper to put Inferno up 2-0.
The Fusion committed more players to the attack and it paid off in the 76th minute when Connecticut's Brenan Brown broke loose down the right side and connected with Ena Croning, who beat Inferno goalkeeper Kelly O'Brien with a well placed shot in the upper left.
The Inferno defense was unfazed and thwarted several Fusion attacks for the remainder of the match, preserving the win.
The Inferno will head to Ludlow, Massachusetts at 4pm ET this Sunday to face the undefeated top-seed New England Mutiny in their third matchup this season.
Lancaster looks to defend their East Conference Championship title, as the two teams will battle for a berth to the 2019 UWS National Championship, which will take place July 19-21st.
Watch the East Conference Championship live on MyCujoo:
https://mycujoo.tv/video/new-england-mutiny?id=69778