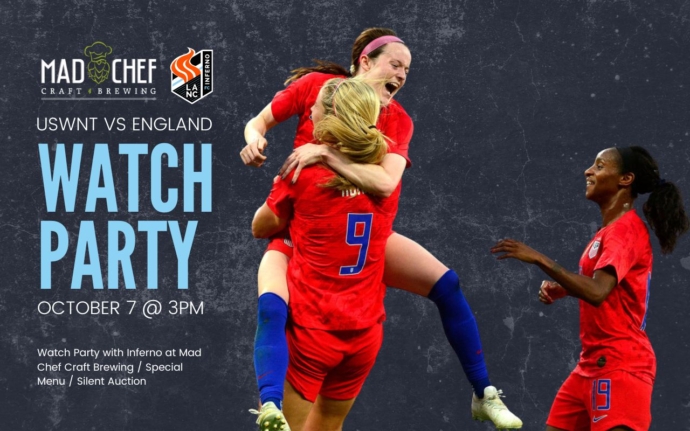 Join us for a Crazy Good Time
Hey, you soccer maniacs! The insanely awesome Mad Chef and your favorite local team, the Lancaster Inferno, are collaborating on a fun event that you aren't going to want to miss!
Come out to Mad Chef in East Pete on Friday, October 7th to watch the USWNT play England. Kick-off is at 3:00PM.
Mad Chef has planned a special menu to celebrate the event as well as their iconic, expertly crafted beer. In addition to their always delicious food and drinks, they're hooking up their popcorn machine and we'll have a wacky photo booth for your selfies.
We are starting the celebration a little early with an online/silent auction that started today and will end at the same time the match will end. Be sure to check out the auction at https://lancinferno.travelpledgeauctions.com/event/1188
We have some fantastic items that have been generously donated and all proceeds go toward ensuring quality equipment, facilities and training for our girls youth club.
We will be adding items all week, so keep an eye on the auction!
Seating is going to be limited but there is nothing like watching an exciting game with a bunch of soccer nuts. We hope you can join us for a crazy good time!