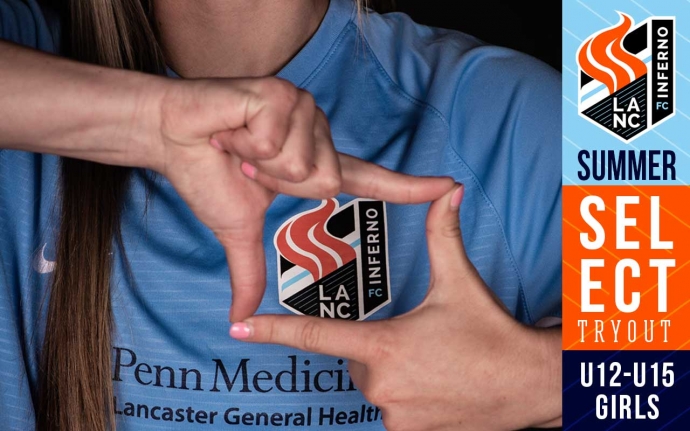 Inferno Announces Summer Select Program for U12 to U15 Girls
Lancaster Inferno is excited to announce the Inferno Summer Select, a program for U12-15 girls (2006 – 2009 birth years). A select group of youth players will have the opportunity to train and learn first-hand from Lancaster Inferno's players and technical staff. College players and aspiring/former professionals on the team will lend their expertise in the game to a talented group of young players in the local area. To participate in this unique all-girls soccer program, players must attend tryouts and be selected for the team.
Open to girls U12-15 (2006 – 2009 birth years) – regardless of club affiliation. Selected players will be placed onto U12-13 combined and U14-15 combined teams.
TRYOUT
Sunday, March 7, 2021 from 3:30-5pm at Manheim Township Athletic Complex – 2883 Weaver Road, Lancaster, PA 17601
Check-In: 3:00-3:30pm
Warm-Up: 3:30-3:45pm
Cost: $20 – includes a t-shirt
More details & waivers will be sent after you have registered.
All players trying out will be notified of their acceptance, via email by March 21st.
PROGRAM COST & BENEFITS
$375 per player
A five-week all-girls soccer training program with Lancaster Inferno's players and technical staff

8 Training sessions
2 Games
1 Tournament

Speed & Agility training incorporated into 1 session per week
Professional, challenging, and engaging environment for future Inferno players
2 Training tops
A FREE ticket to each of Inferno's home games
DATES
Eight training sessions will take place from 5:30-7pm on Tuesdays and Thursdays beginning June 22 through July 22.
2 games (1 home and 1 away) – dates TBD
Lititz Summer Showcase on July 24-25
All coaches are SafeSport certified and licensed.