Inferno Announces First Group of Signees for 2016 Team
The Lancaster Inferno announces their first group of signings for their 2016 inaugural season in the East Conference of United Women's Soccer (UWS). These players will lead the campaign in the new national pro-am women's soccer league for the Lancaster, Pennsylvania-based team.
New to the team are Costa Rican WNT player Carol Sanchez (VCU) and University of Connecticut goalkeeper Emily Armstrong.
The team is led by local team captains, former professional player Teresa Rynier (Conestoga Valley), and Honduras WNT player Stephanie Cleaves (Lancaster Catholic). The group of veterans also includes Emily Dolan (Wilmington, DE), Trisha Clark (Dillsburg, PA), and Lancaster county natives Bailey Corbin and Natalie Connell.
"Keeping with our mission to provide the highest level of women's soccer we are very pleased with the commitment from our returning signees," said Francisco Cleaves, Inferno owner. "In addition we have recruited additional players to ensure we field a competitive team in the UWS."
CAROL SANCHEZ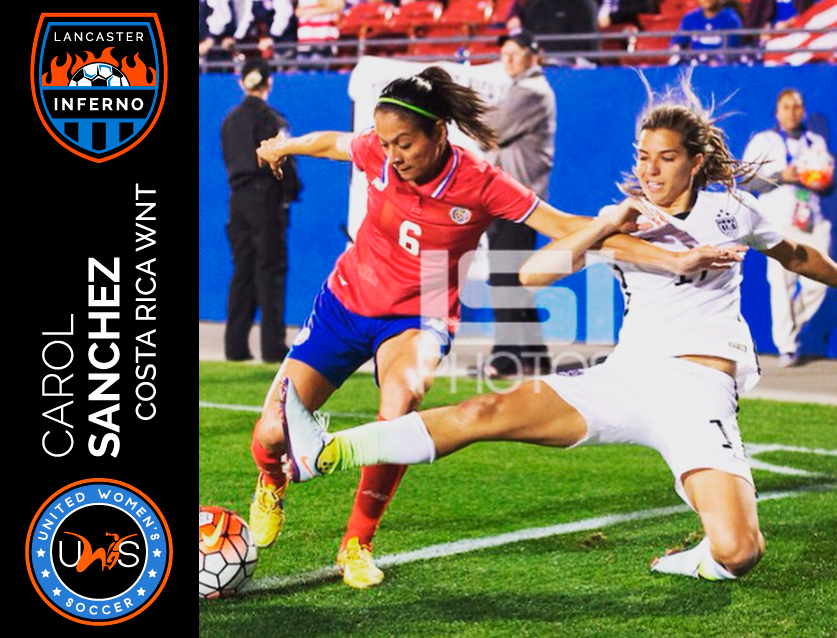 Carol Sanchez, a fixture on defense for Costa Rica's women's national team, joins the Lancaster Inferno for the 2016 season. She most recently participated with her national team in the 2016 Olympic qualifiers beating Mexico to advance to the semi-finals where they eventually lost to Canada. In addition to playing for the Costa Rica WNT, Carol is the captain for the A.D. Moravia of the Costa Rican 1st division national league, she also played for Virginia Commonwealth University where she was the Colonial Athletic Association Defensive Player of the Year in 2011.
"I am very excited to become part of the Lancaster Inferno, I hope to lend my experience to the team and also learn from the players and coaches. This will be a great challenge for me because my goal is to reach the league championship and my long term goal is to play professionally in the US or Europe."


TERESA RYNIER
Former professional soccer player, Teresa Rynier, has signed for her second consecutive season with the Lancaster Inferno as team captain. As an All American, four year starter for James Madison University, she holds the school record in assists (53) which is also a conference and state record. In 2011, Teresa was selected by Philadelphia Independence in the fourth round of the 2011 Women's Professional Soccer Draft.
Teresa's professional career included time with 3 teams: Ottawa Fury (2011 & 2014), FH Hafnafjördur – Iceland (2013), Kvarnsvedens IK – Sweden (2012). Teresa was W-League's regular-season assist leader (8) as a starter for Ottawa Fury team that was W-League North American runner-up in 2011. She was part of the Lancaster Inferno from 2007-2010 and 2015.
As a local Conestoga Valley high school star, Teresa played three years at Olympic Development Program regional level and six years at the state level. She is an alumna of PA Strikers, who was U.S. Club Soccer National Champion in 2002 and Eastern Pennsylvania State Champion, Region I Champion and USYS National Finalist in 2003.


EMILY DOLAN
Lancaster Inferno welcomes back goalkeeper, Emily Dolan, from Florida Gulf Coast University for her 3rd consecutive season. Emily played 4 years with Florida Gulf Coast University.
Emily played for Kirkwood SC Freedom who was 6x State Champions, Region 1 Premier League, and 2008 Director's Cup national champs. She attended Wilmington Charter in Delaware and was named 1st team all-conference, 1st team all-state, state top 11, and Goalkeeper of the Year.


STEPHANIE CLEAVES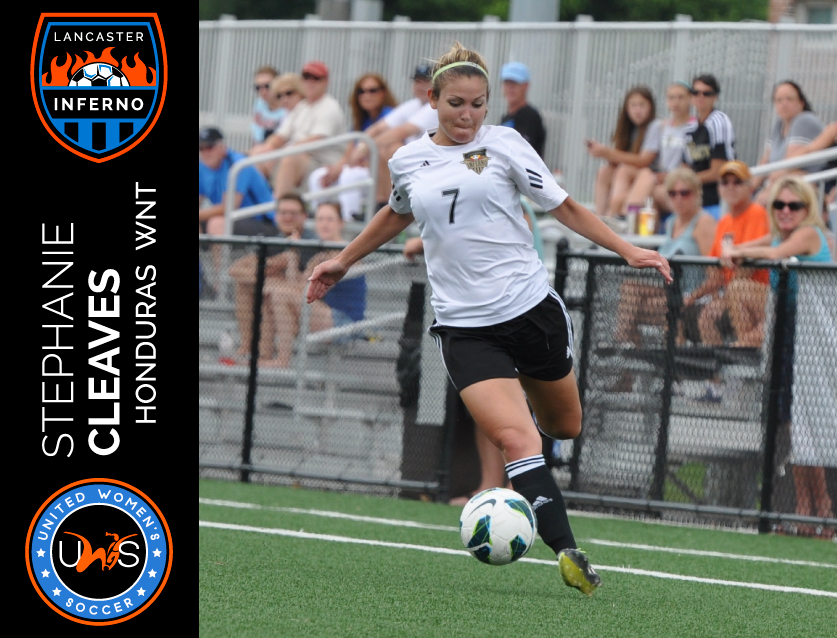 Lancaster Inferno captain, Stephanie Cleaves, has signed for her third consecutive season. As a dual citizen, Honduran-American player, Stephanie has earned caps with the Honduras WNT. Her first national appearance was for the qualifying rounds of the 2010 Central American and Caribbean games in Nicaragua. She also competed in the 2012 Summer Olympics pre-qualifiers in Guatemala, and the 2013 World Cup pre-qualifiers in Costa Rica.
A graduate of Lancaster Catholic, Stephanie was a team captain her junior and senior year. She was part of the Olympic Development Program throughout high school and played in the Super Y-League for FC Delco "Heat" under head coach Rob Smith. Stephanie's collegiate career included time with three programs: Philadelphia University, Millersville University, and Houghton College.
On joining the UWS, Stephanie says "I am so excited about the new league which presents the opportunity for us to play at the highest level of pro-am women's soccer in the U.S.! I hope to continue to improve my game and encourage other soccer players to aspire to play at a high level even if you are 'retired,' like me. Soccer is a huge part of my life, and if you have that same passion, your career can continue after college."


TRISHA CLARK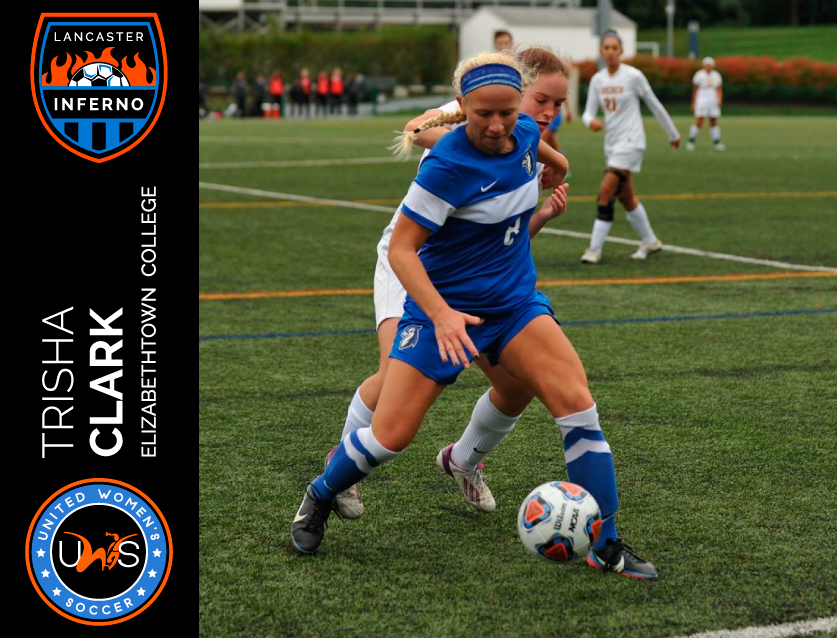 Trisha Clark, a midfielder from Elizabethtown College, has signed with the Lancaster Inferno. Trisha was named First-Team All-Conference and Second-Team All-Region in 2015. She was also awarded Second-Team All-Conference in her previous 3 seasons, and was the MAC Conference Rookie of the Year in 2012.
As a member of Trinity High School in Camp Hill, Trisha was named the Mid-Penn Capital Division Player of the Year as a senior, the Patriot-News Big 11 and All-Sentinel Girls' Soccer Team in 2012. She was also the Mid-Penn Capital Division First Team All-Star Midfielder as a junior and senior, scoring a team-high 19 goals, while adding eight assists in her final season with the Shamrocks.
Trisha is an alumna of FC Pennsylvania Strikers, 2012 USYSA National Champions, 2011 national semifinalists, 4-time Region 1 champions, and 7-time Eastern PA state champions. In signing for her third consecutive season with the Inferno, Trisha Clark says, "I can't wait to join Lancaster Inferno again this season! I'm looking forward to playing with the girls, and face some great competition in the new league."


BAILEY CORBIN
Bailey is in her third season with the Lancaster Inferno. After her Freshman season at D1 USC Upstate, Bailey transferred to Nova Southeastern University from where she was 1 of 6 players to play in every game during the 2015 season, starting 7 of 18 matches. Bailey helped the team achieve a 2nd place finish in the Sunshine State Conference and their 3rd ever appearance in the NCAA playoffs.
As a four-year varsity starter at Lampeter-Strasburg HS, Bailey earned Pennsylvania All-State and All-Region honors, was named Section MVP, Female Athlete of the Year, MVP and Defensive Player of the Year. She was also a three-time Lancaster-Lebanon League Section 2 first Team All-Star. Bailey played for Penn Fusion of the Elite Clubs National League (ECNL).


NATALIE CONNELL
Natalie Connell from Davidson University has signed for her second consecutive season with the Lancaster Inferno. As a Freshman at Davidson, Natalie saw action in all 19 games, starting in 17 of them, best among first-year players.
Natalie was a four-time letter winner on the varsity girls soccer team for Hempfield High School where she was team captain and a three-time league all-star. She played for Rage United Soccer Club (2009-2011) and PA Classics (2012-2015).


EMILY ARMSTRONG
Emily Armstrong, goalkeeper from the University of Connecticut has signed with the Lancaster Inferno for her first season playing in the UWS. Emily was named 2015 American Athletic Conference Goalkeeper of the Year as she helped the team go undefeated at home. She also received the Most Outstanding Defensive Player Award at the American Athletic Conference (AAC) Tournament, AAC Goalkeeper of the Week and All New England 1st Team.
Emily played for FC Pennsylvania Strikers winning the 2012 U.S. Youth Soccer National League Championship, where she received the Golden Glove Award and Best XI. During high school, Emily was ranked #25 in ESPN HS 150 Class of 2012 (#3 GK). In addition, Emily was invited to the U19 National ODP Camp in 2012, U17 National Team Camp in 2009, and was part of the Eastern PA State Team from 2004-2010.