Inferno Announces Third Round of Signings for 2016 Team
Lancaster Inferno is excited to announce their third round of signings for their 2016 season in the United Women's Soccer (UWS) pro-am league. Newcomer Katie Hackos (Youngstown State) joins returning players Sydney Blomquist (University of Akron) and Kara Weller (Elizabethtown College). This group rounds out the roster and competed in Inferno's May, 22nd home opener at Millersville University's Pucillo Field. Inferno's next home match is on June 11th at 6pm.
KATIE HACKOS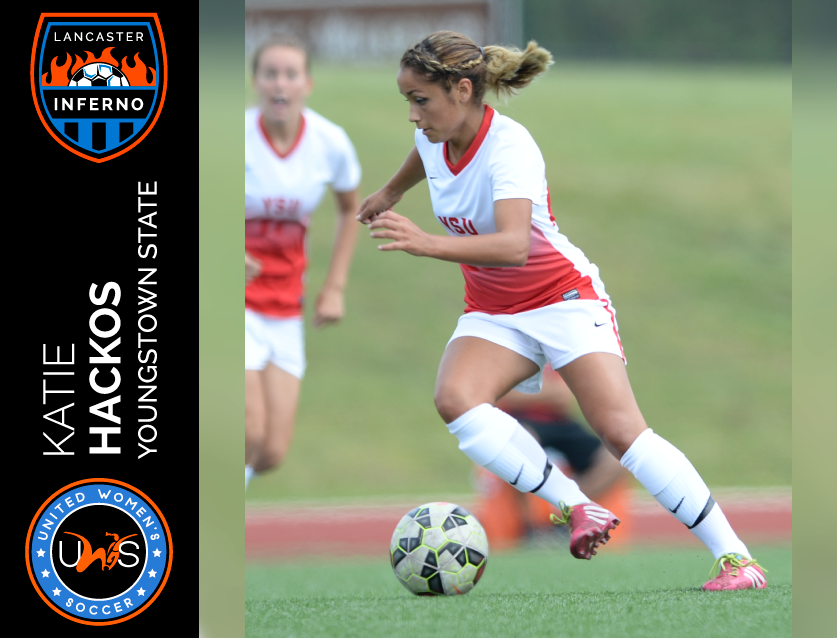 Katie Hackos (York, PA) enters her junior year at Youngstown State where she has been a consistent starter for the Penquins. She was named the Horizon League Player of the Week for the 2015-2016 Season. Katie was a four-year letter winner at Central York High School where she scored 21 goals as a Senior. Katie was named all-county as a junior, and a senior she helped Central York to the District AAA quarterfinals in 2013. Katie played club soccer for Panthers USA Extreme and was part of the Eastern Pa ODP Team.
On signing with the Lancaster Inferno, Katie says, "I'm excited to play with the elite players on this team and put our skills together to work as one. We're all here for one reason, which is that we love the game."
SYDNEY BLOMQUIST
Sydney Blomquist (Bel Air, MD) played Division 1 soccer at the University of Louisville (2011-2012) when they were 2011 Big East Champions and made a NCAA sweet sixteen appearance. Sydney finished her collegiate career at the University of Akron (2013-2014) where she started in midfield and was named All- Academic Team. Sydney played at Fallston High School and for Freestate SA and Maryland ODP.
KARA WELLER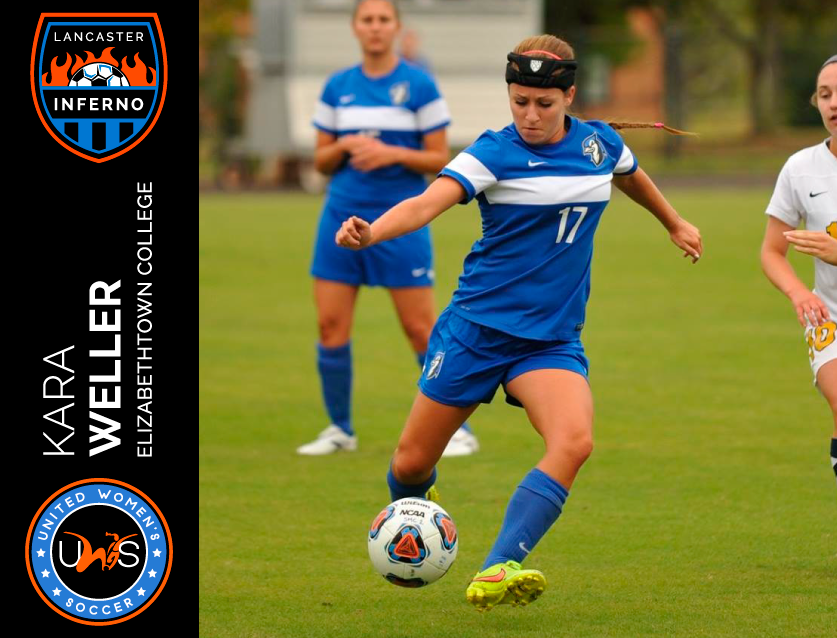 Kara Weller (Macungie, PA) signs for her second consecutive season with the Inferno. Kara played her collegiate career at Elizabethtown College. She is a four year varsity letter winner at Brandywine Heights High School in Mertztown, PA. Kara helped lead the team to states in 2009 and districts in 2010 and 2011. She also received an Honorable Mention in 2011 and All-Division in 2012. Kara played club soccer for FC Revolution.
On signing with the Inferno, Kara says, "After college ends, not many players have the opportunity to continue playing soccer at a competitive level, but I am beyond blessed and happy to have been able to come out and compete at this level of soccer for yet another year. Lancaster Inferno has much to offer – I really look forward to this season with my new team and hope to inspire younger soccer players along the way!"