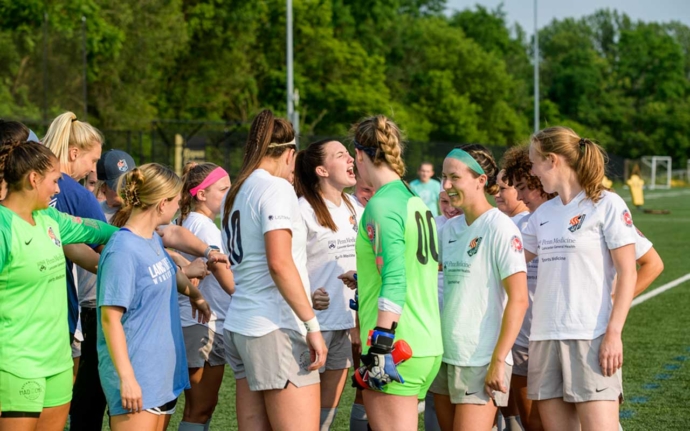 Lancaster Inferno is hot after a 2-0 weekend at home
Both the U23 and First Team find late goals to help the club to an undefeated weekend
Article by Mikayla Mustard
Lancaster, PA — The Lancaster Inferno U23 and First Team recently hosted a double header this past Saturday at their home turf on Millersville University's Pucillo Field.
Both teams were victorious with a score of 2-1 with the winning goals for each team being
netted in extra time. The U23 team competes in the United Women's Soccer League Two (UWS2) and the Lancaster Inferno First Team competes in the United Women's Soccer League (UWS).
U23 Recap
The U23's started off the double header day with a 3 p.m. kickoff as they hosted Keystone FC II.
Keystone was able to find the back of the net first, late in the first half. Their only goal of the
match came in the 41st minute of play as forward, Alexis Miller, finished a shot just out of
Inferno's keeper Jocelyn Umana's reach.
Inferno regrouped at half time with head coach, Wendell Hannaford, who joined the program in
2021.
"At half time we discussed that as players everyone was doing things out of character and we were causing ourselves problems. All we really did was point that out and reinforce how we want to play. The players fought hard in tough conditions, executed better and found a way to get the result, so all of the credit goes to them," Coach Hannaford said.
Inferno started out the second half strong with an early goal in the 53rd minute of play by
midfielder Jessica Williamson on a through ball from forward Emily Weidner.
After a long second half of chances, Inferno was able to come out on top with an extra time goal
in the 92nd minute as Madison Root was able to find midfielder Trinity Seaman who netted what came to be the game winner.
Madison Root has been a key player on the Inferno U23 Team for multiple seasons now.
"It was a great feeling to be able to finish the game off like that. It shows how much we wanted
that win with a goal coming in extra time, we played until the final whistle and to do that in front of our home crowd was a good way to start the double header for the organization," Root said.
The team hopes to keep their winning record going as they travel to Keystone for another
matchup on 6/14.
First Team Recap
Lancaster Inferno's First Team finished up the home double header victorious against their rivals from Coppermine United. The first time the two teams matched up back in May, Coppermine came out on top, but this time it was the Inferno with a thrilling 2-1 win on their home turf.
Inferno was first on the board in just the 33rd minute of play as substitute Rachel Eberly beat
her defender and slotted a ball back across the six yard box for Marissa Digenova to put in the
back of the net.
Coppermine did not hesitate to react as they found their equalizer moments after in the 39th
minute as substitute Lucia Medina finished a free kick opportunity just steps outside of the box. The teams went to halftime at a draw.
The second half was a very back and forth game and the winning goal did not come until the 91st minute in extra time. Inferno forward Olivia Shertzer played a ball to forward Rachel Ludwig who was able to find the game winner with a shot in the side panel of the goal past Coppermine's goalkeeper.
Coach Stephanie Cleaves, former player, is now the head coach of Lancaster Inferno's First
Team and she had much to say about the 2-1 thriller.
"As a team at the half we talked about how we needed to take control of the game and not give up. This victory was 100% the players. We went into the game missing 3 of our starters and
everyone stepped up. Something lit up in each of them on Saturday and it was amazing to see what we are capable of from starters to nonstarters. We have a deep bench and each and every player is talented and brings different strengths," Coach Cleaves said.
The Lancaster Inferno first team hopes to keep the win streak going at home again this Sunday evening on Father's Day as they host New Jersey Copa F.C for a 6 p.m. kickoff.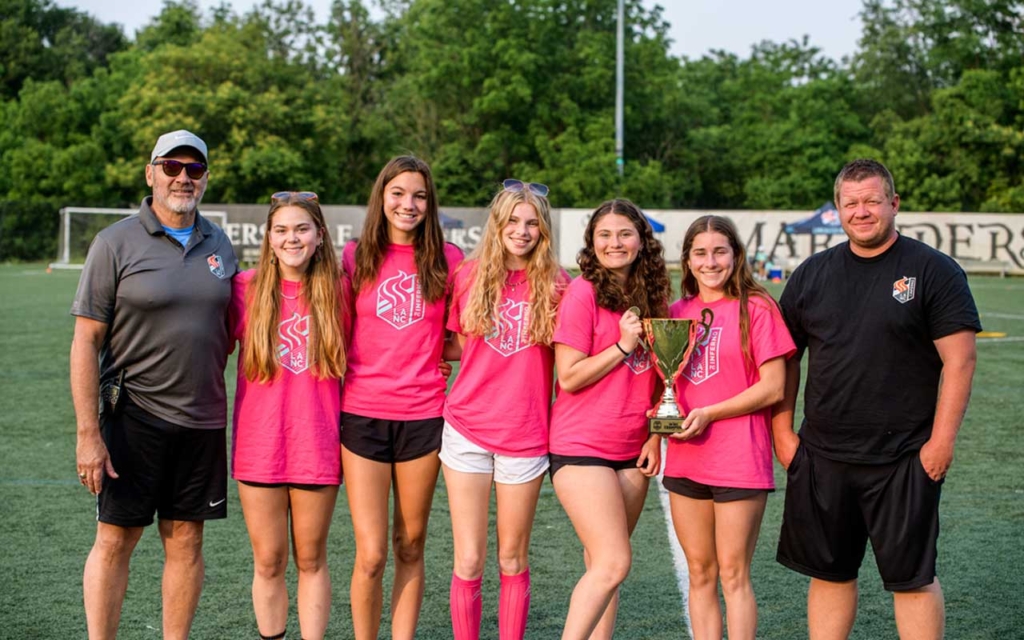 Lancaster Inferno FC's U18 team was recognized at halftime for their 4-3 victory in the EPYSA Challenge Cup Final which took place earlier that morning.