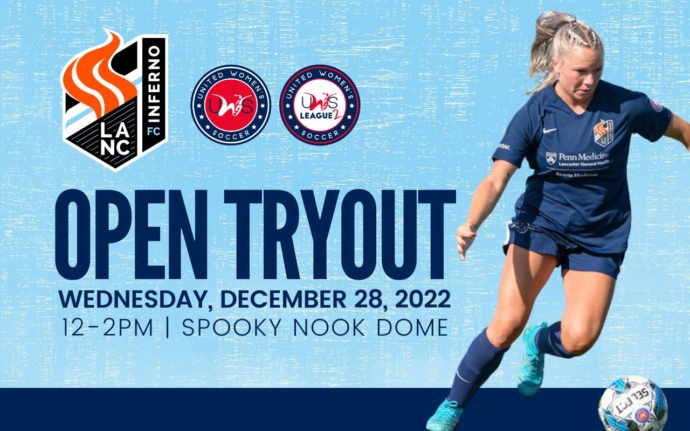 Open Tryout for 2023
Lancaster Inferno is holding an open tryout for the upcoming 2023 season. The tryout will take place on Wednesday, December 28th from 12-2pm at Spooky Nook Dome in Manheim, PA.
Lancaster Inferno's First Team competes in the UWS national pro-am league and U23 Team plays in UWS League Two (UWS2) during the summer months. Rosters are comprised of aspiring/former professionals, current/post college players, and high school standouts.
A HISTORY OF SUCCESS
With 13 players that have signed professional contracts, Lancaster Inferno has a history of success with both of their women's teams. The First Team has won back to back UWS East Conference Championships (2018 & 2019), and advanced to two National Championship tournaments. In 2021, Lancaster Inferno was a semi-finalist for the East Conference Championship. In 2022, the First Team finished the season with a record of 8-1-1, falling just short of the post season. Lancaster Inferno's U23 Team is back to back Champions of the UWS2 Mid-Atlantic North Conference (2021-2022).
OPEN TRYOUT
Date: Wednesday, December 28, 2022
Location: Spooky Nook Sports (75 Champ Blvd, Manheim, PA 17545). The tryout will be on turf inside the dome/bubble.
Check-In: 11:15-11:45 AM
Time: 12:00-2:00PM
Cost: $35
* No tryout fee for players that were on the teams last season. ALL players (former and new) must register online in advance.