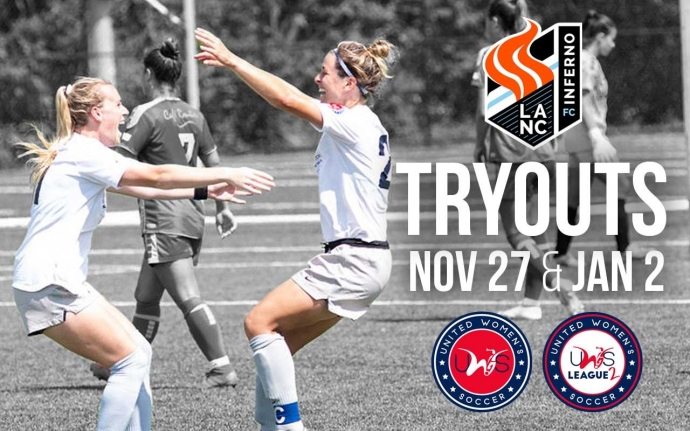 Open Tryouts for 2022
Lancaster Inferno is excited to announce two open tryout sessions for interested players to join us in our 2022 season. The first session is on Saturday, November 27th and the second is Sunday, January 2nd.
Lancaster Inferno's First Team competes in the UWS national pro-am league and Lancaster Inferno II (U23 Team) plays in UWS League Two during the summer months. Rosters are comprised of aspiring/former professionals, current/post college players, and high school standouts.
Inferno has won back to back UWS East Conference Championships (2018 & 2019), and advanced to two National Championship tournaments. In 2021, Lancaster Inferno was a semi-finalist for the East Conference Championship, while Lancaster Inferno II won the UWS Mid-Atlantic Conference Championship in their inaugural season.
SESSION 1:
Date: Saturday, November 27, 2021
Location: : Manheim Township Athletic Complex (Weaver Fields) – 2883 Weaver Road, Lancaster, PA 17601
Check-In: 11:30AM-12:00PM
Time: 12:15PM-2:00PM
SESSION 2:
Date: Sunday, January 2, 2022
Location: In The Net – 798 Airport Rd, Palmyra, PA 17078
Check-In: 9:30AM
Time: 10:00AM-11:30AM
Cost: $35 (covers the cost of both tryout sessions)
No cost to former players on the First Team and U23 Team from previous years. ALL players (former and new) must register online in advance.
Can't make it to either tryout session?
If you are a prospective player, please fill out this questionnaire and we will add you to our mailing list.
Are you too young to play with us?
Are you a youth player with a dream of playing soccer at a higher level sometime in your future? Well, we would like to hear from you, too! We can add you to our mailing list for fan info, camps and clinics, and other fun opportunities. Please fill out the following form: