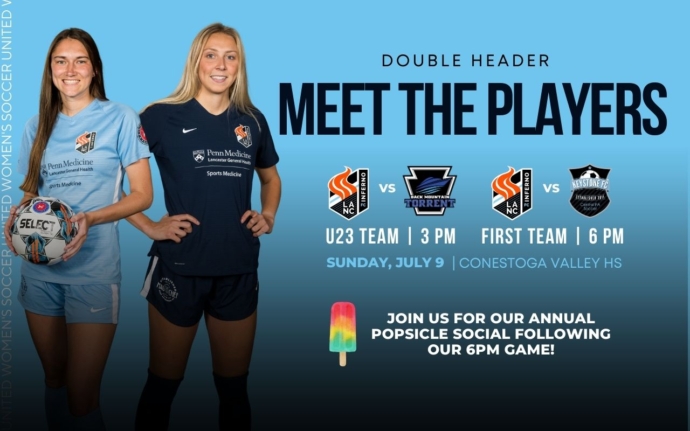 Popsicle Social & Last Double Header of 2023
Playoff bound, Inferno closes out regular season this Sunday
Lancaster, PA — This Sunday, July 9th, is going to be an exciting day for fans of Lancaster Inferno!
It is Lancaster Inferno's last double header of the season and annual Popsicle Social where fans will have the opportunity to meet the team and get autographs & photos with their favorite players.
Hosting the last regular season match, Lancaster Inferno is playing Keystone FC at 6:00 PM at Conestoga Valley High School. A victory for the Inferno will mean they will be hosting the UWS East Conference Quarterfinal on Wednesday, July 12th (more info TBA).
In her first season as head coach of Lancaster Inferno, former player Stephanie Cleaves looks ahead.
"Our team has the potential to advance to the East Conference semifinals (and beyond) for the 4th time in club history," said Coach Steph Cleaves. "We have a good number of returning players that have led us there in the past as well as new ones that can help us get there again."
The gameday double header begins with a 3:00 PM kickoff for Inferno's U23 team (3-2-1) against league newcomers Back Mountain Torrent (4-0-2). Led by Coach Wendell Hannaford, Inferno U23 is back-to-back Mid-Atlantic North Conference Champions in UWS League Two. This is a must win for the Inferno as they look to defend their title.
Make sure and bring your appetite for pizza and more from "DiMaggio's Krazy Street Kitchen".
Popsicle Social:
Plan on sticking around after the 6:00PM game for our annual Popsicle Social! Bring your sharpies and meet your favorite players, get photos, and collect autographs, all while enjoying a refreshing popsicle!
General Admission: $5 | Youth ages 5 and under: FREE | Lancaster Inferno FC Players: FREE (present e-ticket) | Pre-purchase Tickets HERE