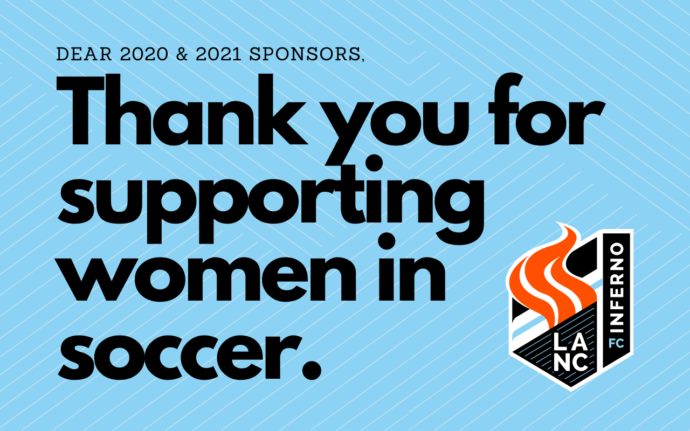 Special Recognition to Our Supporters
We would like to give some extra love to our sponsors and partners who stuck with us and supported us in 2020 and 2021. In 2020, our league's season was cancelled, due to the pandemic. Fortunately, we were able to offer training and some friendly matches for all of our dedicated athletes.
In 2021, we were grateful to have played a regular season, and adhered to guidelines meant to protect both players and fans. One of the guidelines was to keep the number of spectators down so we didn't exceed the facilities limit of attendees.
Both years, this meant that our partners and sponsors didn't get the exposure they would have normally received. Yet, without them, we would not have been able to provide the opportunity for our talented players to stay out there on the pitch these past two years.
If you know any of these amazing individuals or businesses, please make sure and tell them "thank you" for supporting women in soccer and for helping us to continue operations. Also, if you're ever in the market for services provided by our business sponsors, we hope that you will take the opportunity to give them your patronage.
Businesses (alphabetical order):
Additional Businesses (alphabetical order):
Cat 5 Lounge
GFHB
Homefront Holdings
Radka Music
Spring Garden Electric
Wesley S. McDonald, LLC
Individuals (alphabetical order):
Bidelspach Family
Bowen Family
Breech Family
Darlington Family
Dunwoodie Family
Encarnacion Family
Friends & Family of Abby Aughe
Friends & Family of Cheyenne McCloud
Friends & Family of Courtney Stinger-Cecco
Family & Friends of Kayla DeTreux
Hill Family
Hinkson Family
Hollinger Family
Kasparcova Family
Kline Family
Kropinack Family
Mesaros Family
Morales Family
O'Brien Family
Polsky Family
Bob & Kay Rathsam
Renee K Reed
Richards Family
Mr. Roger Sandt
Slovak Family
Wunderlich, Sheila M