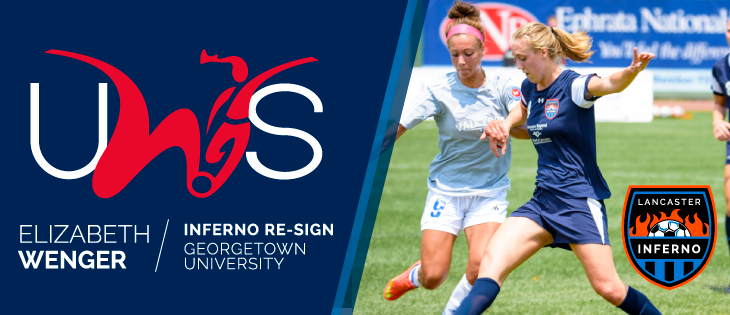 Elizabeth Wenger Re-signs with Inferno
Elizabeth Wenger re-signs with the Lancaster Inferno to complete their 21 player roster this season. Liz is entering her senior year this Fall at Georgetown University as a standout center back. She has played an integral role in her team's success, who most recently was a College Cup Final Four contender ('16). Liz was named Big East Freshman Team ('14) and All-BIG EAST Second Team in 2015 & 2016. Liz also leads the team in minutes played and was named BIG EAST Defensive Player of the Week twice during the season.
She is a 2014 graduate of Warwick High School (Lititz, Pa) and played youth soccer for Pa Classics (state champions '12) under Coach Mark Pulisic, father of USMNT breakout star Christian Pulisic.
"I am looking forward to playing with this group of women this summer. I'm excited to work hard and get some results with this team."
Read More about Liz: "Wenger Looks to Carry Family Legacy"