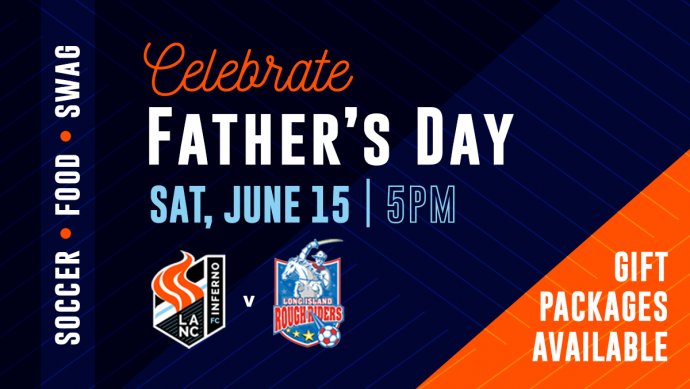 Home Match: Soccer, Food & Swag
Come celebrate Father's Day at Inferno's next home match on Saturday, June 15th at 5pm. Lancaster Inferno (2-1) faces the LI Rough Riders (4-2) on their home turf at Millersville University – Pucillo Field.
Bring the entire family to watch high level women's soccer & enjoy our gameday experience. There will be fun giveaways for dads and a half-time competition to find out who is the #1 Dad.
General Admission: $5 | Kids 5 & under are FREE | Purchase Tickets >
Special gift packages are available NOW through June 15th.
SWAG PACKAGE $30 ($40 Value):
Hat for Dad – 2 styles available ($20 value)
2 Tickets ($10 value)
1 Food Truck Meal for Dad – Double Burger, Fries & Drink ($10 value)
ALL DECKED OUT $50 ($65+ Value):
T-Shirt for Dad ($15-$20 value)
Hat for Dad – 2 styles available ($20 value)
4 Tickets ($20 value)
1 Food Truck Meal for Dad – Double Burger, Fries & Drink ($10 value)