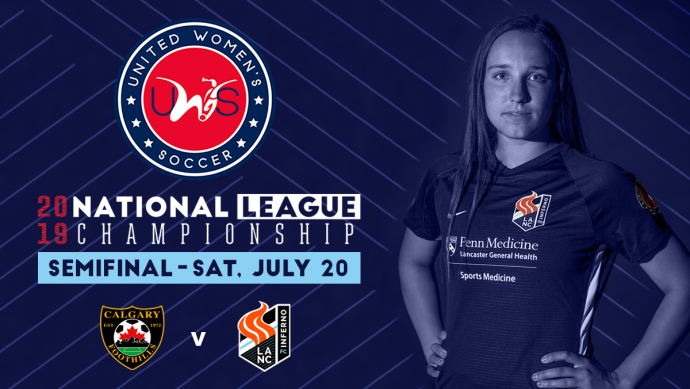 Inferno looking forward to National Semifinal
Inferno is facing the host team, Calgary Foothills FC, in the second semifinal match of the UWS National Tournament, this Saturday at 5PM MDT (7PM EST).
Although it is the first time the teams will play each other, it is the second time for both teams to play in a National semifinal game. In 2018, Calgary won the West Conference and Inferno earned the East Conference title. Calgary lost their semifinal match against Houston Aces, while Inferno defeated host team, Grand Rapids FC. The following day, Inferno was unsuccessful against the Aces, losing the final with a goal just a few minutes before the whistle during double-overtime.
This year the two teams get the opportunity to play each other, and despite Calgary's home field advantage, Lancaster is prepared for the challenge.
Calgary has a strong attack and will pose a challenge to our defense but at this point in the season all opponents are tough, so we will play our game with some minor adjustments.

Coach Francisco Cleaves
For people who cannot make it out to Calgary for the 2019 UWS Championship Tournament, you can WATCH LIVE on mycujoo.tv using the links below:
Semifinal 1: LA Galaxy vs Indiana Union
https://mycujoo.tv/video/united-womens-soccer?id=69951
Semifinal 2: Calgary Foothills FC vs Lancaster Inferno:
https://mycujoo.tv/video/united-womens-soccer?id=69950
Final Match:
https://mycujoo.tv/video/united-womens-soccer?id=69954