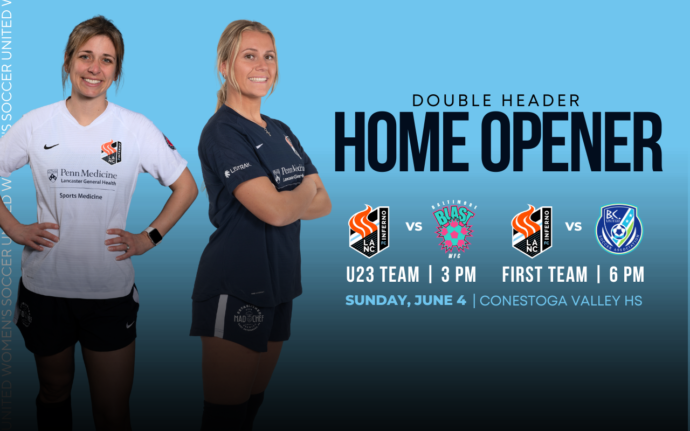 Lancaster Inferno Home Opener on Sunday
Lancaster, PA – Lancaster Inferno has their first double header of the season this Sunday, June 4th at Conestoga Valley High School. The Inferno 2023 edition seeks to return to the league's national Final Four. The First Team features 19 returning players and will be led by newly appointed head coach Stephanie Cleaves. Soccer fans don't want to miss the opportunity to watch the highest level talent showcased right in Lancaster County! Join the community of supporters, ahead of the FIFA Women's World Cup in an unforgettable summer of soccer.
The First Team welcomes back co-captain, Teresa (Rynier) Rook who missed last season on maternity leave. In addition, co-captains Marissa DiGenova (Temple/PR Sol), and Ryelle Shuey (Elco/Lehigh) return for their 6th season. The Women's teams are composed mostly of local talent, including Liz Wenger (Warwick/Georgetown), Gianna Yurchak (CV/Buffalo), Madison Mohr (Elizabethtown/Kutztown U.), Jessica Weinoldt (Hempfield/McDaniel), Maddie Carper (Manheim Central/LVC), and newcomer Olivia Shertzer (Warwick/West Virginia). Jackie Richards (Exeter HS/Campbell, Grace George (Conrad Weiser/Siena), Mikayla Mustard (Central Dauphin/Youngstown) and Maddie Root (Ephrata/Youngstown) have also re-signed. View more signings at the links below:
First Team Signings – Round 1 | U23 Team Signings – Round 2
"We have always relied heavily on local players and round it out with players from adjacent towns like Ephrata, Lebanon, York, Reading and Philly area," said Inferno President, Francisco Cleaves. "We believe that our area continues to produce outstanding talent and in our club the younger players can practice and play alongside experienced veterans which is great for their development."
Featured in the doubleheader on Sunday, the Lancaster Inferno's U23 Team opens up their season against Baltimore Blast at 3 PM and looks to defend their back-to-back conference champion title (2021-22). Following the U23s, the First Team kicks off at 6 PM against league newcomer BC United (East Vestel, NY). After finishing second in their division last year, the First Team looks to bounce back and compete for the conference crown which they won in 2018 and 2019.
Lancaster Inferno has also added a U20 team geared towards HS seniors from their year-round travel program. All three teams are competing at three different tiers within the United Women's Soccer (UWS) national pro-am league. The coaching staff is spearheaded by Head Coach Stephanie Cleaves. Stephanie holds her USSF C License and is a former player and assistant coach with the First Team. She was recently accepted into the U.S. Soccer B License Course to take place this Fall and is a recipient of a scholarship from the Jill Ellis Scholarship Fund.
Warwick HS Girls Varsity Coach Wendell Hannaford returns for his 3rd season as Head Coach of the U23 Team. In addition, he is an Assistant Coach on the First Team alongside Rob Smith, Mary Schanne and Goalkeeper Coach Kenny Archer. Kyle Diem (Pequea Valley/York College) will lead the newly formed U20 team assisted by Casey Shillabeer (Cedar Crest/LVC) and Adam Johnny Morris. Read the coaching staff bios HERE.
"We strive to provide our coaches with additional opportunities and advanced level coaching experiences in support of all three teams," said Francisco Cleaves. "The U23 & First teams also have opportunities to scrimmage & train with each other in practice which creates a 'One Team' mentality."
This Sunday, the Inferno will also be recognizing their 6 inaugural youth travel soccer teams at the double header, complete with food trucks, halftime games and other fun activities.
Tickets for the double header are $5 and can be purchased online or at the gate. Children 5 and under are Free. More information can be found HERE.
_____________________
About Lancaster Inferno
Lancaster Inferno FC is Pennsylvania's only all-girls travel soccer club that provides a player pathway from youth to pro-am.
Founded in 2008, Lancaster Inferno was acquired under new ownership in 2014 to provide high level soccer in Lancaster County. Lancaster Inferno fields a First Team and U23 Team that features aspiring/former professionals, current/post college players, and high school standouts.
The club has earned national recognition in fielding two of the top pro-am women's soccer teams in the country. In 2022, the Inferno launched a year round all-girls travel soccer program in an academy structure that fields one team per age group within a unified pathway.
Find out more about Lancaster Inferno FC on their official website. Connect with them on Facebook, Twitter, and Instagram.