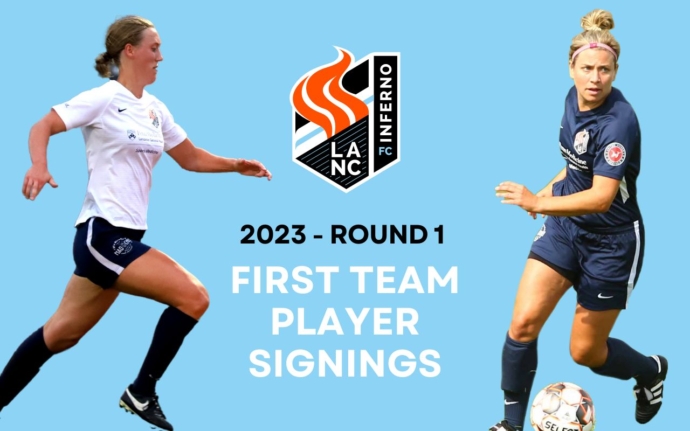 2023 First Team Signings – Round 1
Lancaster, PA — Lancaster Inferno is excited to announce the first round of player signings for their 2023 season in the United Women's Soccer (UWS) national pro-am league.
In the first installment, twelve players return to Lancaster Inferno's First Team. The group consists of current/post college players and two former professionals, Teresa (Rynier) Rook and Elizabeth Wenger, who are also coaches in Lancaster Inferno FC's all-girls travel soccer club.
Additional post-college players include Gianna Yurchak (Buffalo) and 3x All-American, Maddie Mohr (Kutztown).
Current college players include, co-captain Ryelle Shuey (Lehigh), Jackie Richards (Campbell), Mikayla Mustard (Youngstown State), Misa Kasparcova (Pitt), Jessica Weinoldt (McDaniel), Grace George (Siena) Rachel Eberly (George Mason), and Taylor Mentzer (UNC Greensboro).
"We're pleased to announce twelve returning players to the 2023 team," said coach Stephanie Cleaves. "We have a good balance of former professionals, and current/post college players that are familiar with the level of competition and strong team culture we have developed over the years."
Many of these players will be coaches for Inferno's Summer of Excellence program, which is geared towards girls ages 8-17 who have a strong desire to improve their game.
Stay tuned for more signings announcements and the game schedule for the 2023 season.