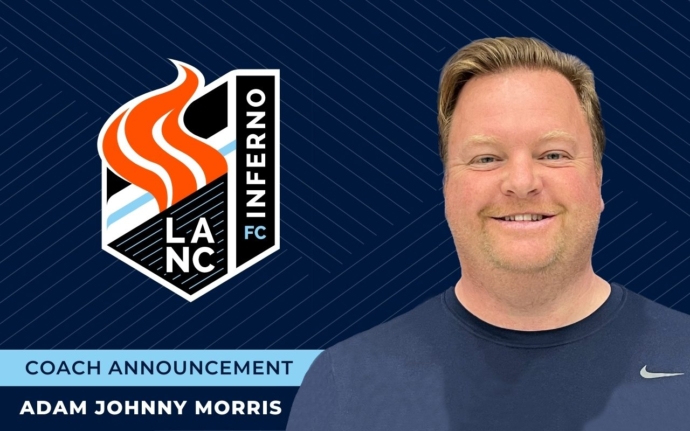 Adam Morris joins Youth Coaching Staff
Lancaster, PA – Lancaster Inferno FC is pleased to welcome Adam Johnny Morris to the coaching staff of their year round all-girls travel soccer club. Adam is a former professional soccer player that has over 20 years of coaching experience, and holds his UEFA C License.
"Adam is an energetic coach that will go above and beyond for his players," said Youth Club Director Teresa Rook. "Our players will benefit from his soccer knowledge. We're very happy to have Adam in our program to continue to push our athletes to be the best they can be."
Adam has been the Head Coach of Donegal HS Girls Varsity Soccer Team since 2022, and the Head Coach for Milton Hershey Middle School Boys Soccer Team since 2014. He was also the ODP Assistant Coach to Teresa Rook from 2014-17. He has spent time coaching with various youth clubs including Lancaster Elite, FC York, and then Pennsylvania Soccer Academy. Overseas, Adam was the UK Soccer™ Program Development from 2005-2007, Mid Wales Ladies (senior side) from 2004-05, and Newtown AFC Manager in Wales from 2003-05.
Adam played professionally for Port Vale F.C. in England from 1995-1998 and Aberystwyth Town F.C. in Wales from 1998-2001. He was also a Player/Coach at Rhayader Town F.C. in Wales from 2000-03. As a youth player, Adam spent time training with clubs including Newtown FC, Shrewsbury Town, Telford United, Manchester United, and Aston Villa.
"Being able to give back some of my experience and help young players develop as players and young adults is so satisfying," said Coach Adam Morris. "There's nothing better than watching someone you've coached playing through college and getting the call, 'Hey Coach, are you coming to the game this weekend?' Really excited for this next chapter with Lancaster Inferno FC!"
Additional Coaches and Coaching Assignments for the travel program will be announced soon for the Fall 2023/Spring 2024 season. Interested players can register for tryouts at the following LINK. Stay tuned by following @LANCinferno on Facebook, Instagram, and Twitter.