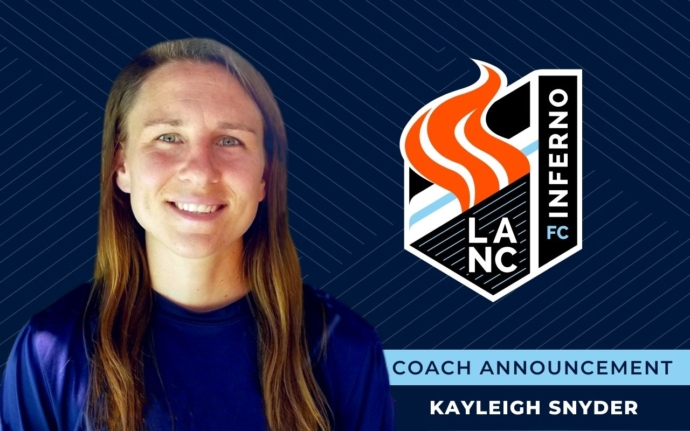 Kayleigh Snyder joins Youth Coaching Staff as Goalkeeper Coach
Lancaster, PA – Lancaster Inferno FC is pleased to welcome Kayleigh (Hershey) Snyder to the coaching staff of their year round girls travel soccer club. Kayleigh joins the coaching staff as Goalkeeper Coach and will be responsible for training Inferno's goalkeepers from U9-19.
"It is an honor to be joining Lancaster Inferno as the goalkeeper coach for their newly formed club teams," said Coach Kayleigh Snyder. "Ever since I began playing soccer, I've been blessed to be surrounded by the very best of coaches. They challenged me to grow on and off the field, pushing me to new limits and truly cared for me as an individual. My goal is to do the same here with the Lancaster Inferno goalkeepers. Let's get started!"
A native of Lancaster County, Kayleigh (Hershey) Snyder was a standout goalkeeper that helped Donegal High School's Varsity Soccer Team win back to back State Championships (2009-2010) and become District Finalists.
Kayleigh is currently the Goalkeeper Coach for Penn Manor High School Girls Soccer. Most recently, she worked alongside the coaching staff to guide the Varsity Team to win the LL League Championship in the Fall of 2021.
"Kayleigh is an experienced player and coach and had a successful career at Donegal High School," said Youth Club Director Teresa (Rynier) Rook. "As a coach, she connects with players and has a true desire to help them learn and grow. She is committed to our club priorities and goals. I look forward to her working with our keepers."
Kayleigh has a Bachelor of Arts in Sustainable Agriculture and Youth Ministry from Messiah College. She resides in Lancaster with her husband, daughter, and son, with another child on the way and runs marathons in her spare time.