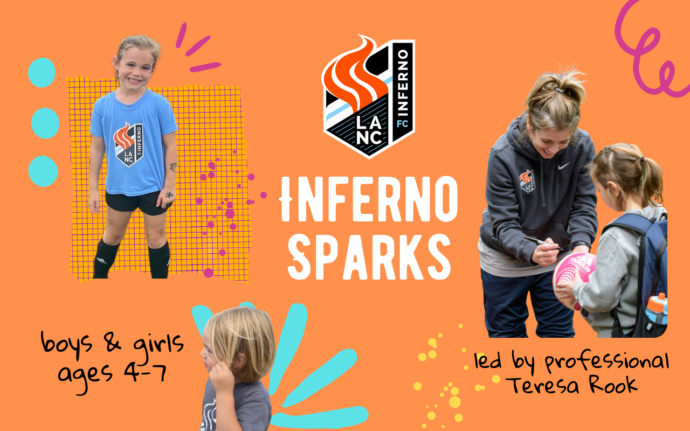 Inferno Sparks
Lancaster, PA – Lancaster Inferno FC is excited to introduce Inferno Sparks, a new program for young athletes ages 4-7. Participants will be introduced to the fundamentals of soccer and play fun games. Each session will be dedicated to teaching players how to control the ball, dribble, and pass with both feet.
Led by enthusiastic and experienced coaches, Inferno Sparks is a program designed to introduce young boys and girls to the beautiful sport of soccer. Inferno Sparks is spearheaded by former professional soccer player, Teresa (Rynier) Rook. Coach T holds her Master's Degree in early childhood education and teaches second grade at Penn Manor School District. She is also the Youth Club Director at Lancaster Inferno FC.
Come enjoy a summer of learning and fun!
Each player will receive an Inferno T-shirt. Participants will also have the opportunity to be player escorts, and play during halftime at Inferno's home games (selective dates).
Ages: 4-7 (grouped by age)
Dates: June 20, 22, 27, 29, July 6, 11, 13, and 18 (Tuesday/Thursday). Please note that July 4th is off.
Time: 6:15-7:15 PM
Location: Warwick High School – Grass Field #6 (301 W Orange St, Lititz, PA 17543)
Cost: $125/participant (Includes T-Shirt)
Equipment: Bring a size 3 soccer ball and water to all practices. Soccer cleats are the best footwear on grass fields.