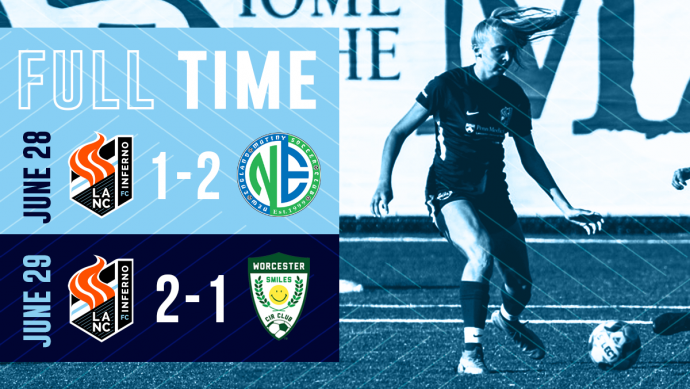 Inferno Goes 1-1 Over the Weekend
A road trip to Massachussetts with back-to-back games on Friday, June 28th and Saturday, June 29th, proved to push Lancaster Inferno's stamina.
Mutiny 2 – Inferno 1
Inferno started the weekend road trip with a match at Lusitano Stadium against the New England Mutiny. The match was evenly played with Inferno creating two excellent opportunities in the first half by Kay Liebl but the goalkeeper came up with two big saves.
Inferno goalkeeper, Kelly O'Brien, also came up with some big saves to keep the score tied at zero going into the second half. Both teams had good opportunities to score but the goalkeepers on each team kept the game scoreless.
The Mutiny scored first when Kate Howarth headed a cross of a direct kick from Ellie Jean in the 49th minute. Inferno tied the game in the 66th minute when Jackie Richards headed the ball in on a cross from Haley Crawford.
Mutiny's Hope Santaniello netted the game-winner in the 78th minute off a cross from Mariela Jacome. The Inferno seemed to have the equalizer with a shot from Teresa Rook (Rynier) with time running out at the 88th minute, but once again Mutiny's goalkeeper Maddie Murphy got in the way.
We played them tough and created scoring opportunities. The game could have gone either way and we are focused on the rematch this Saturday at home.

– Coach Francisco Cleaves
Worcester 1 – Inferno 2
The second game in two days matched the Inferno against the Worcester Smiles. The Inferno started strong with several scoring opportunities hitting the crossbar and post in the first half. Worcester goalkeeper and defensive player of the week, Brittany Henderson (13 saves), seemed to be in the right place every time.
Inferno regrouped at half time and opened up the scoring in the 54th minute on a cross from defender Marissa DiGenova to Jackie Richards.
Despite the constant offensive pressure the Worcester goalkeeper continued to make saves. In the 79th minute the Smiles got on the board when their left winger broke loose and buried the ball in the right corner.
The game stayed even until the 92nd minute when Teresa Rook buried a penalty kick in the left corner that secured the win for Inferno.
Rest of the 2019 Season
With the results from this weekend's road trip, Lancaster Inferno has secured at least a third place finish in the East Conference, and a spot in the 4-team conference playoffs to be held July 12 and 14th. (Location TBD)
We can still finish first, but our focus is to finish as a top seed to host the first round of the playoffs. The team is in good spirits and I think we are ready.
Come out to Pucillo Field for Lancaster Inferno's last two home games of the 2019 season. The team will be playing another back-to-back weekend.
On Saturday, July 6th at 5:00PM, Inferno will again be playing the East Conference leader, New England Mutiny. Everyone attending is invited to the Annual Popsicle Social immediately after the match. Read More –>
Inferno's last regular season home match is on Sunday, July 7th at 5:00PM. There's a fun social media contest to celebrate the last match of the 2019 Women's World Cup PLUS at the end of the match the winners of Inferno's First Ever Annual Raffle will be drawn! Lots of great prices, lots of chances to win!!! Read More –>