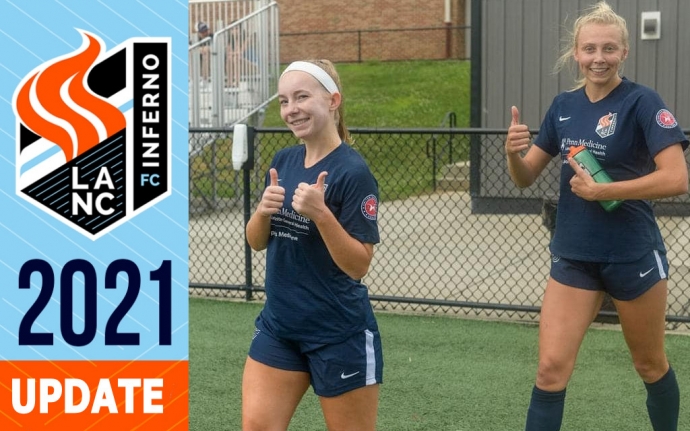 LANC Inferno's 2021 Post Season Update
Some time has passed since our last blog about Inferno activities. We have a lot of exciting things going on that we'd love to communicate with you!
First an update …. like everyone we were affected by COVID. Our 2020 season play changed quite a bit. Instead of a regular season schedule, our league play was cancelled. We were going to participate in several tournaments, but they too were cancelled. There were a lot of female soccer players who were disappointed and wanted to get out on the pitch!
In 2020 we worked closely with our friends at Penn Medicine/LGHP Sports Medicine and developed a safe-play protocol to protect our players, while also allowing them to get some games in. We played a series of friendly matches in the summer of 2020. We were thankfully supported by some wonderful and loyal sponsors so we could continue to offer as much as we could for the players.
That brings us to our 2021 season. We started the season still under the threat of COVID and were required to maintain some safety protocols. In addition to the ones we developed with Penn Medicine/LGHP Sports Medicine, we were obligated to maintain certain protocols from the facility (Millersville University) for our practices and game day operations. Due to these restrictions, we did not actively encourage fans to come out and watch until the end of our season, but we did offer live-stream of our games.
Even with the challenges that COVID brought to us during the past two seasons, our players excelled once again.
Lancaster Inferno
Pre-COVID Lancaster Inferno was on a huge winning streak! We were East Conference Champions in 2018 and 2019, earning a spot in the National Championship Tournament. In 2021 we were able to attend the East Conference Championship Tournament but were eliminated in the first round. Our team faced incredibly stiff competition all season and performed very well.
As always we are proud of the hard work and dedication that is required of the players to compete at this high level of play. The players that earned conference awards are:
All-UWS Second Team
All UWS Iron Women of the Year (played every minute of every match in the regular season)
Marissa DiGenova (D) – 10 games, 900 minutes
Teresa (Rynier) Rook (M) – 10 games, 900 minutes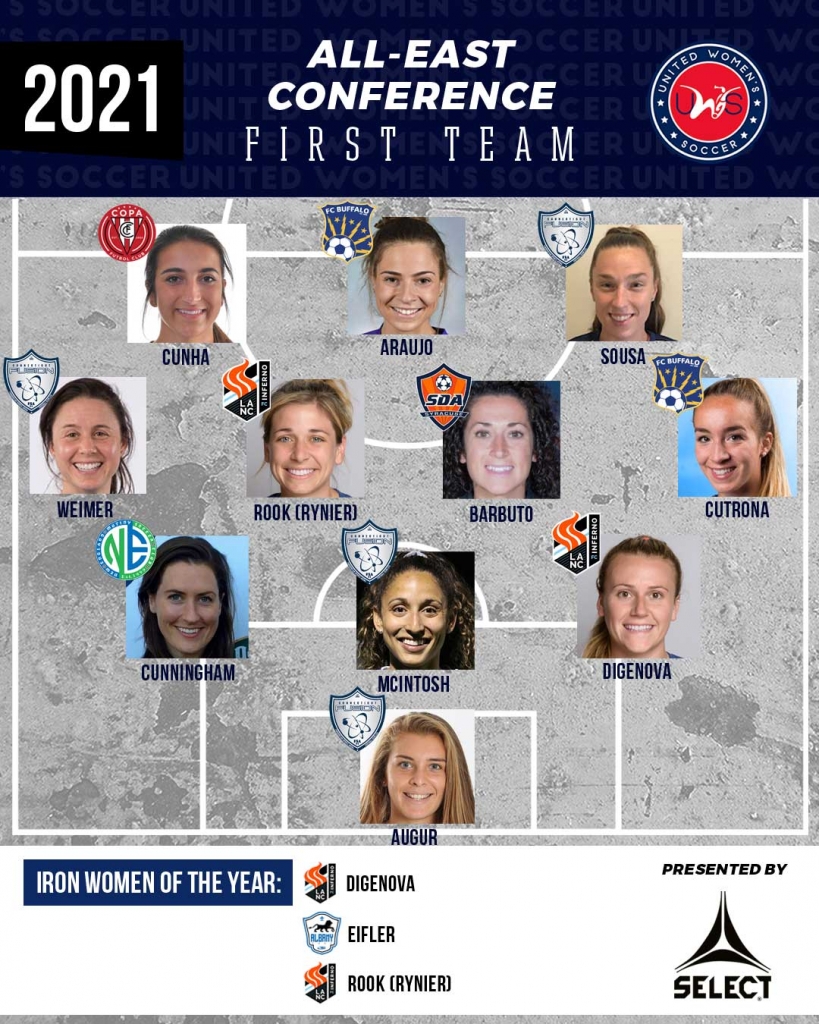 2021 UWS All-East Conference First Team
Marissa Digenova (D)
Teresa (Rynier) Rook (M)
2021 UWS All-East Conference Second Team
2021 Honorable Mention
You can read more about the league awards for our Lancaster Inferno players here: https://uwssoccer.com/2021-all-uws-awards/
Lancaster Inferno U-23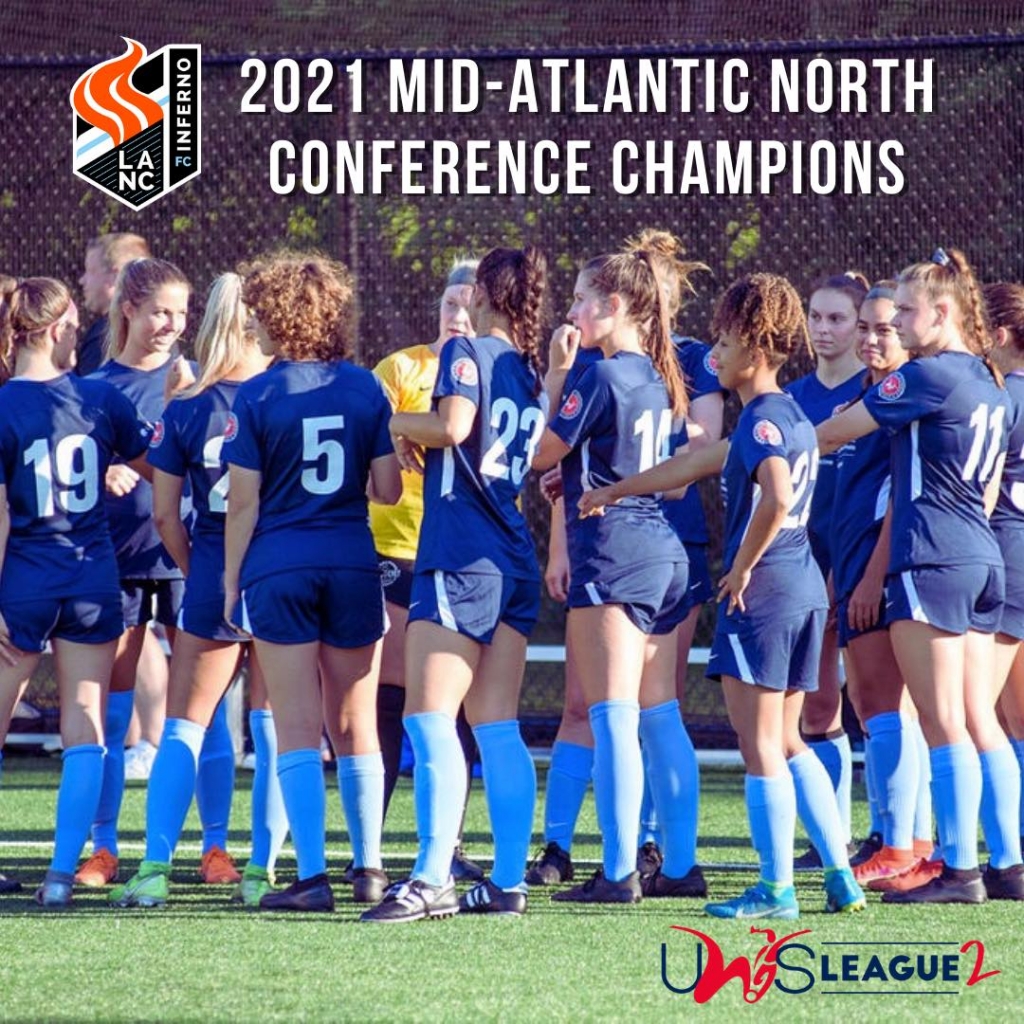 Our U-23 team joined UWS League 2 in 2021 and played clubs in Maryland, Pennsylvania, and Delaware. With only one defeat, our U-23 team was the Champion of the Mid-Atlantic North Conference.
We are proud of all of the players who contributed to the team's success and many of our players were awarded with recognition for their efforts.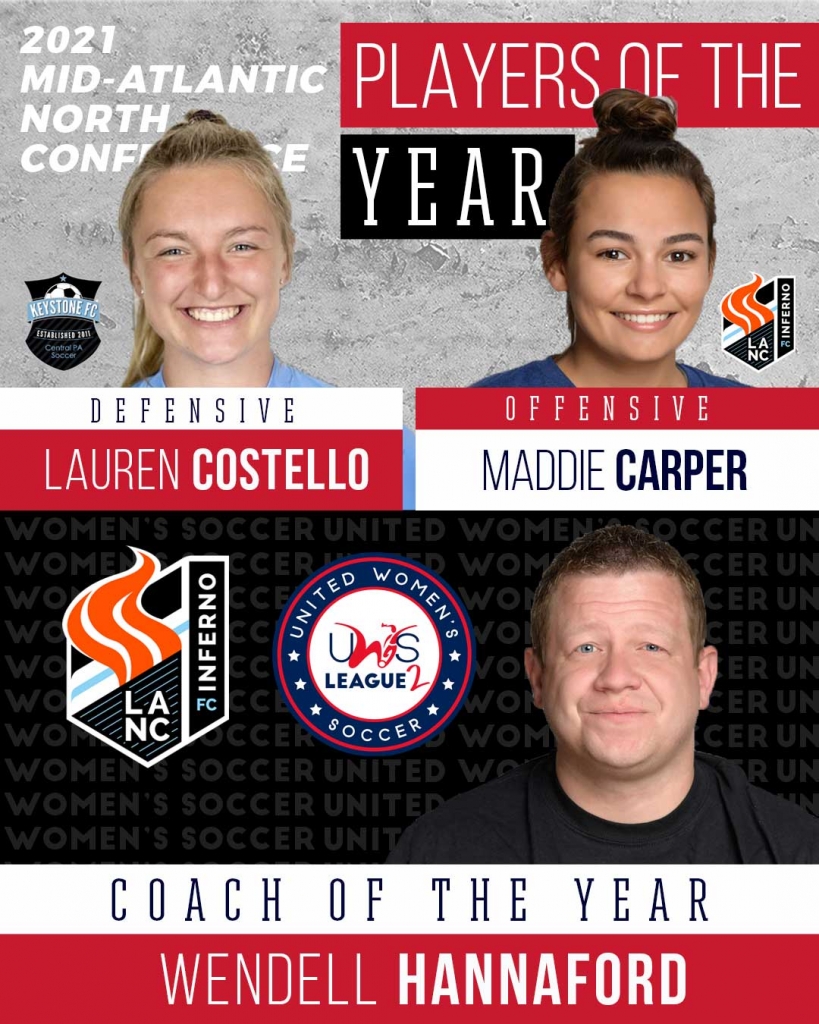 2021 UWS2 Mid-Atlantic North Conference Coach of the Year
Head Coach Wendell Hannaford was named Mid-Atlantic North Conference Coach of the Year during his very first season with Lancaster Inferno.
2021 UWS2 Mid-Atlantic North Conference Offensive Player of the Year
Maddie Carper was honored for her successes on the pitch in 2021 and was named Offensive Player of the Year for the Mid-Atlantic North Conference.
2021 UWS2 All-Mid-Atlantic North Conference First Team
Abby Aughe (GK)
Carly Cavanaugh (D)
Shayna Polsky (D)
Maddie Carper (M)
Emma Sweitzer (M)
Honorable Mention
You can read more about the league awards for Lancaster Inferno U-23 here: https://uwssoccer.com/2021-uws2-all-mid-atlantic-north-conference-awards/
Youth Programs
Summer Select
We ran a Summer Select program this year for younger girls (14-16 years), led by our super talented Lancaster Inferno Team Captain, Teresa Rook.
We were thrilled with the players that came out to try out for our teams and wish we had a place for all of them, but we ended up with 3 teams. All teams were coached by our licensed pro-am team players and played in several matches, as well as ending their season at the Lititz Summer Showcase tournament.
Our Summer Select uniforms were sponsored by Niv Lemoine Real Estate Group.
Camps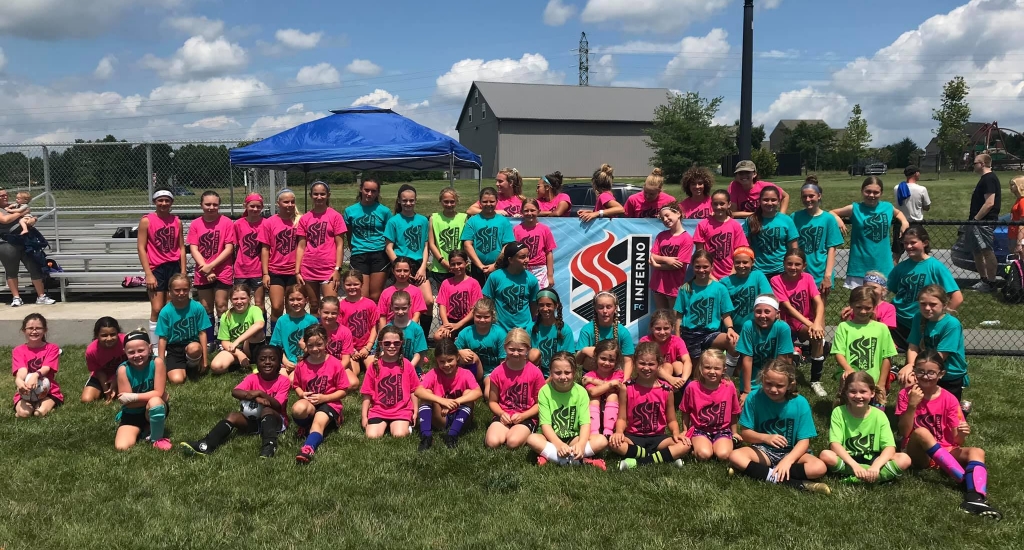 We had three "Girl's Only" camps for age 5-14, with the attendance of each session growing in number. It was a ton of fun for the girls, who also picked up some skills and met and interacted with Lancaster Inferno players. Our feedback was positive, with some requests to provide some camps for male players as well. So we are planning on separating the ages a little more and adding one or two co-ed sessions in 2022.
Coaching Programs
We sponsored a female only coaching class in partnership with the Eastern Pennsylvania Youth Soccer Association (EPYSA). It was open to all interested female coaches, and four (4) of our own Lancaster Inferno players earned their USSF National D License.
We are planning to hold two classes next year — one for the D License and one for the next level (C License). Our goal is to get more female coaches licensed and involved in coaching and mentoring the younger players.
Looking Forward
Each year we evaluate what has been a success and what we can do to improve upon next year. One thing that we hope to improve upon is our community involvement. We'd love to make connections to people throughout Lancaster County.
Volunteer/Intern
There is much we would like to do but we have to be realistic about what we can accomplish with our limited manpower resources. If you have a passion for women's soccer, women in sports, female empowerment, or improving our community you may want to consider volunteering to join us in our journey. Or maybe you have a skillset you'd like to share or improve upon (like video, photography. social media, writing, etc.) we always need help in those areas. And we have experience working with interns who complete a season with us for college credit. Contact info@lancasterinferno.com.
Tryout for our Teams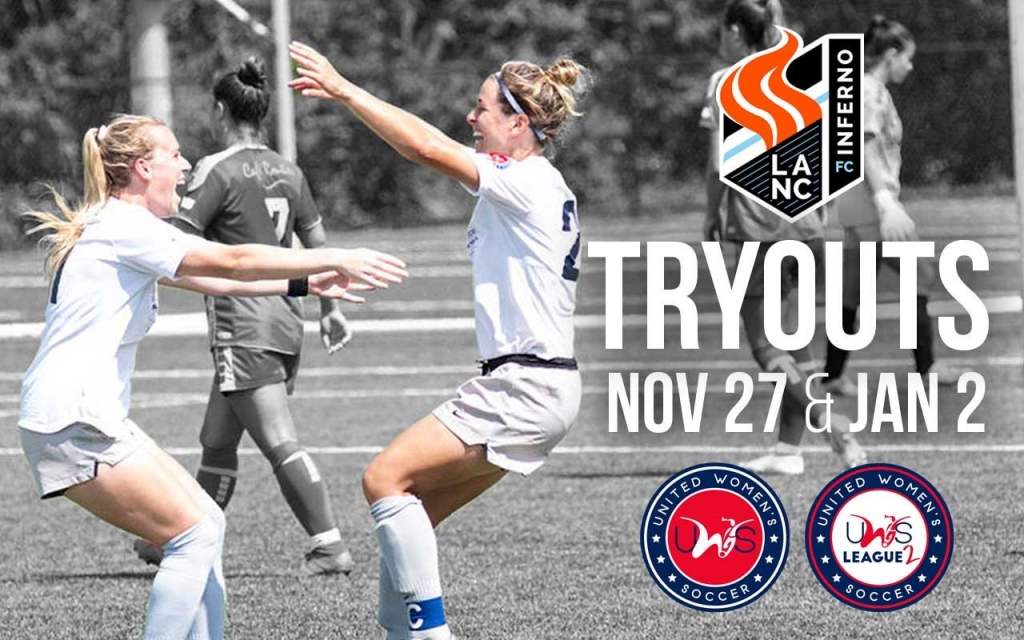 We have two open try-out sessions scheduled for our 2022 teams. The first try-out is Saturday, November 27th and the second is Sunday, January 2nd. You can read more here: https://lancasterinferno.com/open-tryouts-for-2022/
Sponsor/Partner
We offer lots of opportunities for partners to show their support for Lancaster Inferno. Please contact info@lancasterinferno.com if you are interested in finding out more.