Tesa McKibben Re-signs with Inferno
Tesa McKibben re-signs with Lancaster Inferno after playing professionally in Germany. Tesa most recently played for FC Saarbrücken and was part of the Inferno from 2011-2014. Playing in the 2nd tier of Bundesliga (Germany's top Professional Soccer League), Tesa was a 2-year starter, scoring 15 goals and 5 assists in 33 games (missed 12 games due to injury). She is coming back more determined than ever after reconstructive ankle surgery last year.
"We are very excited to have Tesa back for the 2017 season", said Lancaster Inferno owner & head coach, Francisco Cleaves, "the experience she acquired playing in Germany will be a huge asset to our team."
Tesa had a very successful collegiate career at Saint Francis University, where she is the all-time leading scorer (70 goals, 40 assists) and MAC Hermann Trophy Finalist. She is a 4x Northeast Conference Player of the Year, 2x NSCAA Division I Academic All American, 4x NSCAA All Region Forward, and All White Kit National Forward of the Year Finalist. Tesa helped lead the team to become 2x NEC Champs, 2x NEC Regular Season Champs, and earn two NCAA appearances.
A 2009 graduate of Montoursville High School, Tesa was a 4-year starter, captain, and all-time leading scorer (130 goals, 60 assists). She played club soccer for North Union United.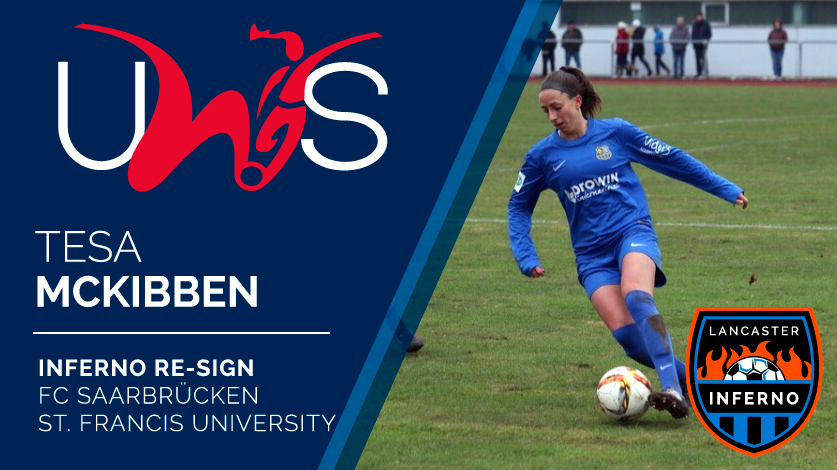 "The Inferno is where I first started my pro-am career and I am hoping that being surrounded by the Inferno's high caliber roster, I can improve as a player, learn more about the game and continue my career overseas. I am beyond excited to get back on the field and get a ball consistently at my feet after a 1-year injury hiatus."