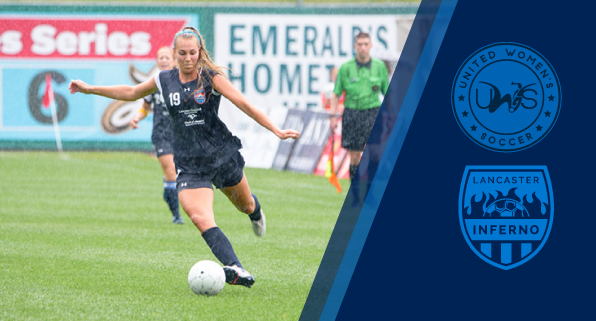 2017 Inferno Season Preview
The Lancaster Inferno played in the inaugural season of the United Women's Soccer (UWS) league last year and it proved to be an exciting and challenging experience. The Inferno will aim to better their record of (4-5-1) from last season.
Head Coach Francisco Cleaves states, "Entering the new league at a higher level of competition was challenging and we fielded a very competitive team. Unfortunately, due to some injuries and schedule conflicts we lost momentum at the end of the season. The key for us this season will be how quickly we can learn to work as a team as we have a lot of new talent."
Inferno's returnees include four key players from last year' squad:
Defenders – Ashley Chilcoat (LaSalle University), and Bailey Corbin (Nova SE).
Midfielders – Trisha Clark and Kara Weller (Elizabethtown College).
Also returning after a short absence from the team are Midfielders – Tesa McKibben (FC Saarbrucken/Germany), Siobhan Bross (St. Francis University), Traci Mohl (York College), and Defender – Kendra Martin (EMU).
New to the team include:
Goalkeepers – Brooke Myers (WVU/West Chester), Jordan Kamp (St. Johns), and Kelly O'Brien (Lafayette).
Defenders – Alexandra Thompson (St. Bonaventure), Sam Jankowski (St. Francis), and Sarah Pavlovich (Lynchburg).
Midfielders – Moira Petrie (Buffalo), Aubrey Suydam (St. Francis), Abby Erlemeier (Richmond), and Maddie Schwartz (McDaniel).
Forwards – Haley Crawford (JMU), and Emilie Kupsov (Longwood).
Check out the first & second rounds of player signings.
"We open the season with 3 away games so we will need to ensure we can get positive results and build a momentum that can carry us through the end of the season. The league has added several high caliber teams to our conference which provides a high level of play for our players and makes it fun to watch for all our fans," Coach Cleaves remarks.
The Inferno is on the road for their first game of the season this Saturday, May 20th against NE Mutiny at 7pm (Longmeadow, MA). Follow @LANCinferno on Twitter for live game tweets.
Two more away games follow as Inferno takes on NY Magic (Saturday, May 27th, 6pm in Brooklyn, NY), and 2016 Eastern Conference champions, NJ Copa FC (Saturday, June 3rd, 4:30pm, Holmdel, NJ).
Lancaster Inferno's Home Opener is on June 4th vs NY Surf, 3pm at Millersville University's Pucillo Field.
Cleaves says, "We are grateful to our loyal fan base, five youth soccer club partners, and the support of local & regional businesses. Inferno's home matches have become a very popular event for families and the soccer community. Our volunteer staff is working hard to create an enjoyable game day experience for match attendees this year. I look forward to the season ahead."
Interested in volunteering at home games? Contact our Marketing Director, Julie, at julie@lancasterinferno.com