2018 UWS National Championship
GRAND RAPIDS, MI – The 2018 UWS National Championship Tournament takes place this weekend, July 21-22nd in Grand Rapids, Michigan.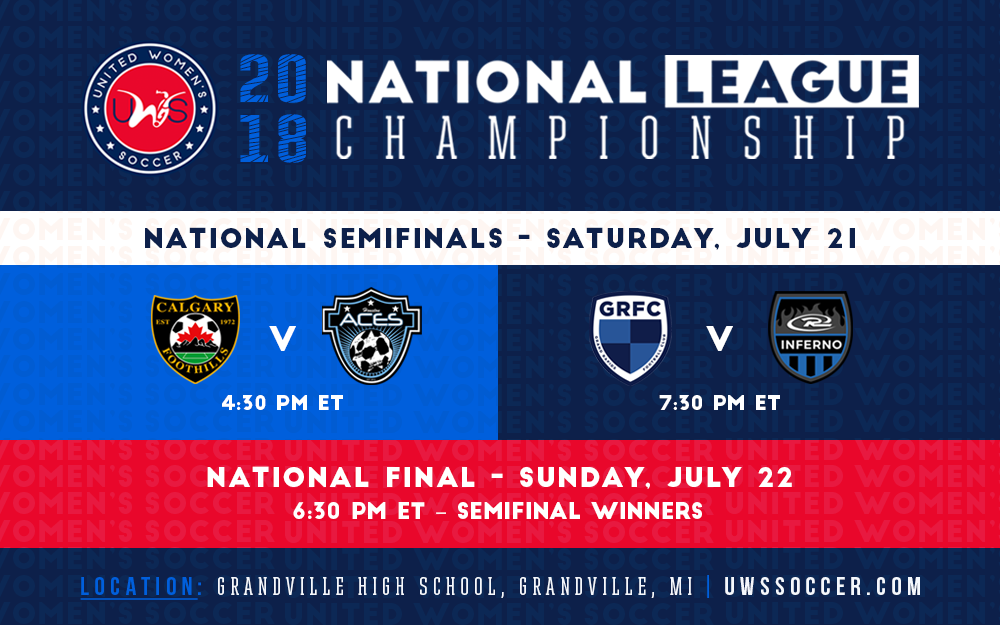 The East Conference regular season and championship winner Inferno Rush (8-3-0) will face Midwest Conference winner, Grand Rapids FC, this Saturday July 21st at 7:30PM ET at Grandville HS in the second UWS semifinal game. West Conference winner, Calgary Foothills and Southwest Conference leader, Houston Aces will face eachother at 4:30PM ET. The winners of the two semifinals will be in the National Championship Final on Sunday at 6:30pm ET. Live Stream: https://mycujoo.tv/video/united-womens-soccer.
The Inferno offense is led by Haley Crawford (10 goals), Teresa Rook (Rynier) (four goals, six assists), and Tesa McKibben (four goals, four assists). Goalkeeper Kelly O'Brien (5 shutouts) and the Inferno defense has 4 shutouts this season while allowing only 10 goals in 11 games.
Inferno had clinched the East Regular Season title with a week to spare and after falling to Long Island (0-1) in the regular season finale, they fired back to get past the Fusion in the East Conference Championship Game (2-0) to claim their spot in the final four.
"The key for us will be to focus on our game plan and finish on our scoring opportunities. Grand Rapids FC has the advantage of having been in the Final Four before and are also the home team. Regardless, I believe our team will respond well to this challenge."