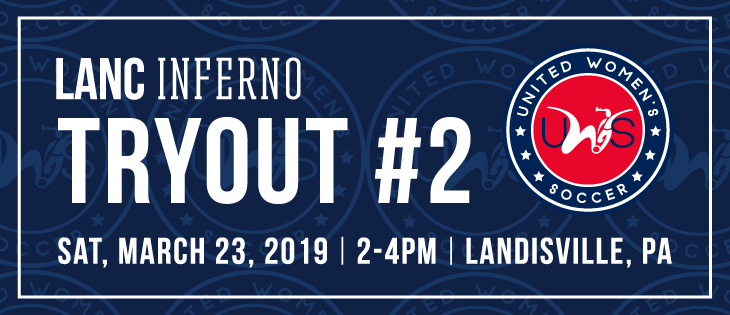 Lanc Inferno Tryout #2
LANCASTER, PA – Lancaster Inferno is holding a second Open Tryout on Saturday, March 23, 2019 from 2-4pm at Hempfield High School.
New this season, the Inferno will be forming both a First Team & Reserve Squad. The addition of the Reserve Team will provide an opportunity for more local players to train & compete at a high level. It will be comprised of H.S. seniors, along with current & former collegiate players.
Entering our fourth season in the United Women's Soccer (UWS) national league, the Inferno rosters high-caliber talent commuting from PA, MD & DE. The Inferno finished their 2018 season as East Conference Champions & National Runners-up, losing in the 118th minute against the Houston Aces.
The UWS season runs from May-mid July (National Championship July 20-21).
There is $35 tryout fee (includes t-shirt). Former Inferno players are not required to pay the tryout fee, but should notify us if they are attending on the 23rd. This also applies to players who were invited back from our first tryout in January.
DATE: Saturday, March 23, 2019
TIME: 2-4pm (new player check-in 1:30-1:45pm)
LOCATION: Hempfield H.S. Quad (340 Mumma Drive, Landisville, PA 17538)