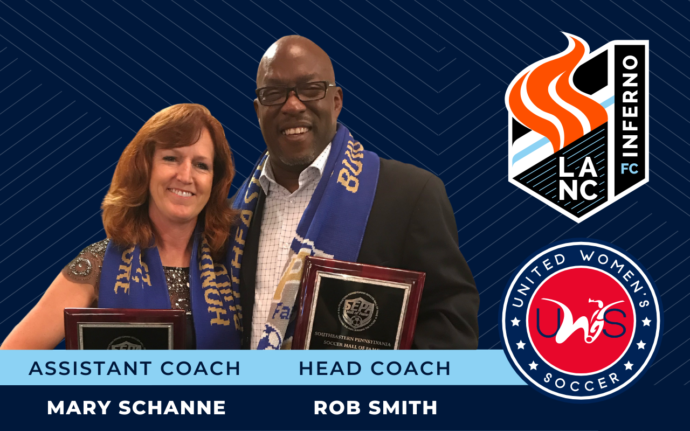 Coaches Rob Smith & Mary Schanne to lead Lancaster Inferno's UWS Team
Lancaster, PA – Lancaster Inferno has appointed Rob Smith as Head Coach of the women's team to compete in the United Women's Soccer (UWS) national pro-am league. Rob has spent the last two seasons as the Associate Head Coach alongside former Head Coach Francisco Cleaves. Rob will be joined by newly-appointed Assistant Coach Mary Schanne and Inferno's U23 Head Coach, Wendell Hannaford.
"I'm thrilled to be coaching the Inferno," said Rob Smith. "I am excited about the addition of Mary to the coaching staff. She brings valuable experience that our young ladies will truly benefit from. I've got great respect for her and she'll serve as a role model to our group."
"I'm confident that Rob and Mary will build on our First Team's past successes and continue to help our players reach their goals," said club president Francisco Cleaves. "In addition, Wendell's involvement with both of the women's teams will provide additional insight and facilitate player movement between the teams."
The newest addition to the First Team coaching staff, Mary Schanne, has over 25 years of coaching experience from the youth to collegiate level. She played at Villanova University and spent time coaching at both Philadelphia Textile and Widener University. Coach Mary Schanne has a long history of leading teams to championships, including her FC Delco club teams (USYA National Finalist and US Club National Champions).
Rob and Mary coached together for 11 years and have won 5 State titles with Downingtown High School. They both are in the FC DELCO and SEPA Hall of Fame. In addition, they have spent time assisting the JT Dorsey Foundation.
"I'm honored to be joining the Inferno coaching staff and looking forward to working with the young women on the First Team," said Coach Mary Schanne. "I'd like to thank the Inferno organization for providing me the opportunity to work with a longtime colleague."
Stay tuned for more announcements and updates on Inferno's Women's Teams. For more information, visit lancasterinferno.com and connect with @LANCinferno on Facebook, Instagram, YouTube, and Twitter.