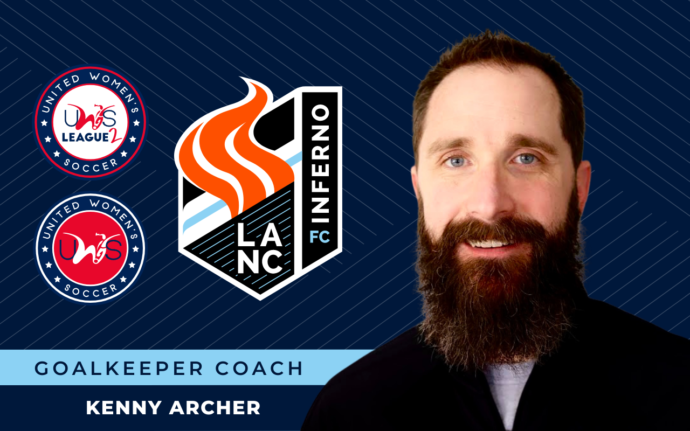 Kenny Archer joins Inferno's Coaching Staff as Goalkeeper Coach
Lancaster, PA – Lancaster Inferno is excited to welcome Kenny Archer to their coaching staff. Kenny will serve as Goalkeeper Coach of Inferno's two Women's Teams. Lancaster Inferno's First Team competes in the United Women's Soccer (UWS) national pro-am league and the U23 Team competes in UWS League Two (UWS2) during the summer months. Goalkeepers include Abby Aughe (Shippensburg), Elliott Breech (Pittsburgh), Jocelyn Umana (LVC), Kendra Clarke (Georgia State alum), and Trinity Soto (Elizabethtown College).
"We're thrilled to welcome Kenny Archer to our coaching staff," said President/GM Francisco Cleaves. "Providing specialized training to our goalkeepers has always been a priority for us with several of our keepers continuing their careers professionally." 
Kenny Archer has over 20 years of experience coaching various levels from youth to college. At the club level, Coach Archer spent 11 years training goalkeepers and teams at Penn Legacy Soccer Club, PA Classics, Lebco United, and the Nook Sports Futsal Academy. He also served as Head Coach and Goalkeeper Trainer for the Girls and Boys Soccer Programs at both Coatesville Area HS and Elizabethtown Area HS. At the college level, Coach Archer has served as Goalkeeper Coach for the Elizabethtown College Men's Teams and the Women's & Men's Teams at Penn State University – Harrisburg.
"​​Lancaster County has a rich history of producing some of the most talented soccer players around," said Goalkeeper Coach Kenny Archer. "I am honored to continue that legacy by bringing my pride and passion for the game to the Inferno organization. I look forward to getting to work!"
Coach Archer had a successful playing career at Penn State University – Berks, where he was EPCC All Conference Goalkeeper and led the team to the Conference Championship and Semifinal. Coach Archer holds his USSF National D License and the NSCAA Advanced National License. He also holds a BS in Psychology from Penn State, a Master's Degree in Counseling from West Chester University, and a Coaching Psychology Certificate from the University of Colorado.
Stay tuned for more announcements and updates on Lancaster Inferno FC. For more information, visit lancasterinferno.com and connect with @LANCinferno on Facebook, Instagram, YouTube, and Twitter.