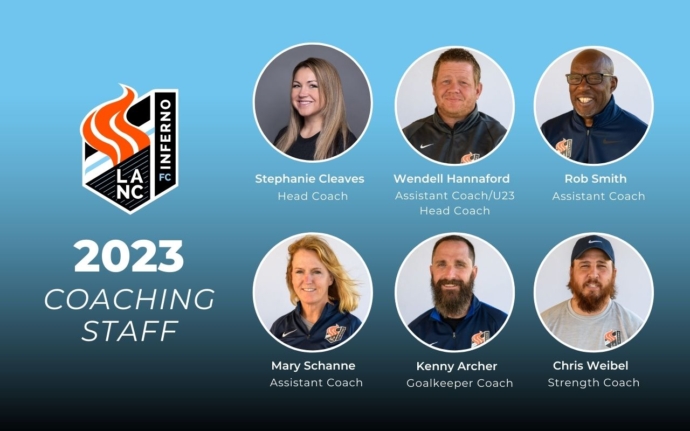 2023 Coaching Staff Announcement
Stephanie Cleaves to lead Inferno's Women's team as Head Coach
Lancaster, PA – Lancaster Inferno is pleased to announce the 2023 coaching staff for their Women's teams competing in the United Women's Soccer (UWS) national pro-am league. The coaching staff is led by Head Coach Stephanie Cleaves. Stephanie holds her USSF C License and is a former player and assistant coach with Inferno's First Team. She was recently accepted into the U.S. Soccer B License Course to take place this Fall and is a recipient of a scholarship from the Jill Ellis Scholarship Fund.
Returning to the coaching staff are Assistant Coaches Rob Smith (4th season), Mary Schanne (2nd season) and Wendell Hannaford (3rd season). Wendell is also the Head Coach of the U23 Team. Rounding out the staff is Goalkeeper Coach Kenny Archer (2nd season) and Strength Coach Chris Weibel (9th season). View all coaches bios HERE.
"I am looking forward to working with this amazing staff and providing a professional environment for our Women's teams," said Coach Steph. "The staff has a tremendous amount of experience at all levels."
Inferno opens its season this Saturday, May 20th on the road at Coppermine (Baltimore), last year's Eastern conference semi-finalist.
---
Lancaster Inferno FC is Pennsylvania's only all-girls travel soccer club that provides a player pathway from youth to pro-am.
Founded in 2008, Lancaster Inferno was acquired under new ownership in 2014 to provide high level soccer in Lancaster County. Lancaster Inferno fields a First Team and U23 Team that features aspiring/former professionals, current/post college players, and high school standouts.
The club has earned national recognition in fielding two of the top pro-am women's soccer teams in the country. In 2022, the Inferno launched a year round all-girls travel soccer program in an academy structure that fields one team per age group within a unified pathway.
The overarching goal of Lancaster Inferno is to provide a professionally operated platform for female soccer players. The club has had numerous players sign professional contracts and receive their U.S. Soccer coaching licenses. In addition, the club prides itself in providing positive role models for youth and the community through their Women's Teams.
Inferno Soccer Corp is an approved 501 (c)(3) Non-Profit organization.
Stay connected with Lancaster Inferno on Facebook, Twitter, Instagram, LinkedIn, and YouTube.