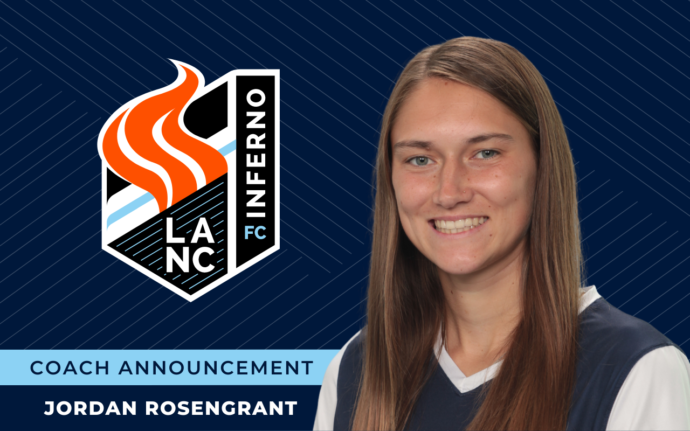 Jordan Rosengrant joins Youth Coaching Staff
Lancaster, PA – Lancaster Inferno is excited to welcome Jordan Rosengrant to the coaching staff of their year round girls travel soccer club. Jordan will also serve as a coach of Lancaster Inferno's Summer Select program this June through July. She has been a member of Inferno's U23 team since 2020. Jordan will be graduating from Robert Morris University this May where she played soccer at the Division I level and studied Business Administration with a concentration in Marketing.
"Jordan has excelled on the field and the classroom," said Youth Club Director Teresa Rook. "She represents the success that we strive to bring to our youth club players. Her positive attitude will help give our players the confidence they need to grow. We could not be more excited to add her to our Inferno coaching staff."
Jordan Rosengrant started playing soccer at age four and played club soccer for PA Classics. She played at Elco High School, where she was a captain and helped her team win the section title all four years. In addition, Jordan helped lead Elco to the league & district championships her senior year in 2018. Jordan was named to the All-Star LL Second Team her junior year and First Team as a senior as well as the Big 11 Team.
Jordan's coaching experience includes coaching Soccer Shots, along with youth camps and high school camps. She is pursuing her U.S. Soccer Grassroots License, followed by the USSF National D License.
"I am very excited to be able to start my coaching career off with such a great organization and great team behind it," said Coach Jordan Rosengrant. "As a player growing up, these were the kind of teams I was looking for to help me reach my goal of playing in college. This is a great opportunity for players to grow on and off the field and I am glad I get to be part of it."
Stay tuned for more announcements and updates on Lancaster Inferno FC. The 2022/23 Travel Team Tryouts are now posted – prospective players must register at the following link. For more information, visit lancasterinferno.com and connect with @LANCinferno on Facebook, Instagram, YouTube, and Twitter.