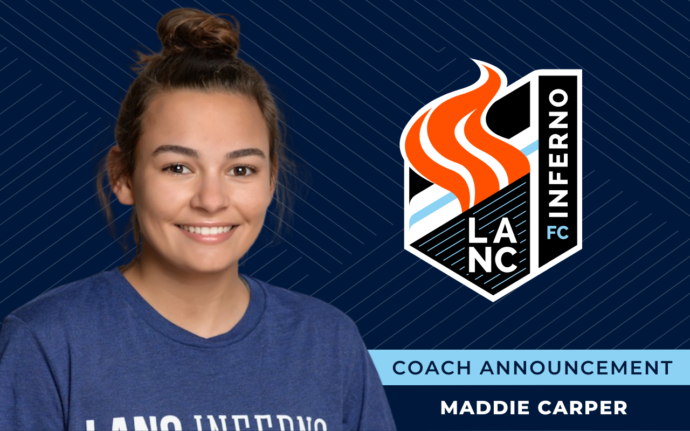 Maddie Carper joins Youth Coaching Staff
Lancaster, PA – Lancaster Inferno is thrilled to welcome Maddie Carper to the coaching staff of their girls travel soccer club. Maddie will also serve as a coach of Lancaster Inferno's Summer Select program this June through July. She has been a member of Inferno's U23 team since 2019 and was named UWS League Two Offensive Player of the Year last season!
"We are excited to have Maddie join our coaching staff," said Youth Club Director Teresa Rook. "She has played locally throughout high school and college and it has been rewarding seeing her accomplishments. I look forward to seeing her share her knowledge with our players."
Maddie Carper started playing soccer at age four and played club soccer for PA Classics. The Manheim Central High School grad was named to the All-State Team & Big-11 Team senior year. She was also First Team All-Star (3 years) and Section MVP senior year. Maddie is entering her senior year at Lebanon Valley where she plays Division III soccer and studies Exercise Science. Maddie's coaching experience includes coaching various summer camps and clinics. She is pursuing her U.S. Soccer Grassroots License, followed by the USSF National D License.
"Having played soccer for the last 15 years, I've learned so much about the game and who I am not only as a player, but also as a person," said Coach Maddie Carper. "Being a part of the Lancaster Inferno culture has brought me to some of the best players and coaches in the area, and it is a privilege to have the opportunity to help future soccer stars develop and grow their love for the game. This summer, I am looking forward to having a great season with the Inferno while also being able to coach with the Inferno Youth Club!"
Stay tuned for more announcements and updates on Lancaster Inferno FC. The 2022/23 Travel Team Tryouts are now posted – prospective players must register at the following link. For more information, visit lancasterinferno.com and connect with @LANCinferno on Facebook, Instagram, YouTube, and Twitter.