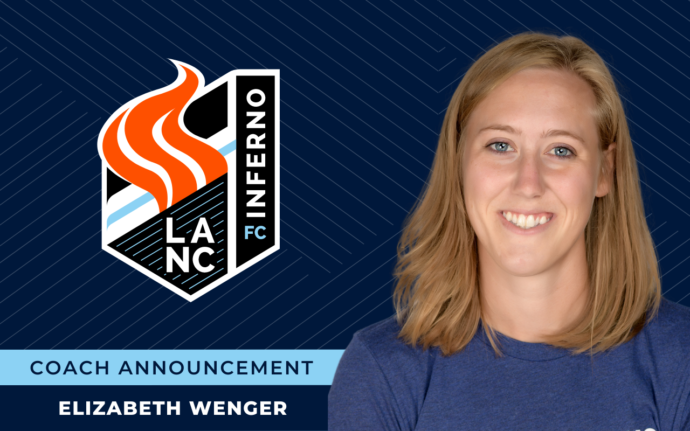 Elizabeth Wenger joins Inferno's Coaching Staff
Lancaster, PA – Lancaster Inferno is excited to welcome former professional soccer player, Elizabeth Wenger, to their coaching staff. Elizabeth will be the assistant coach for Lancaster Inferno's U23 women's team which competes in UWS League Two. She will also be a head coach for Lancaster Inferno FC's new year-round travel soccer program and their Summer Select Program for U9-16 girls.
"I'm very excited to have the opportunity to join the Inferno coaching staff for their girls soccer program," said Coach Elizabeth Wenger. "I also look forward to coaching the U23 team with Coach Wendell, and helping them build on last year's success."
Lancaster native Elizabeth Wenger has played four seasons with Lancaster Inferno's women's team in the UWS national pro-am league. She was a 17th overall pick in the 2018 National Women's Soccer League Draft, and most recently played professionally in Switzerland with FC Lugano Femminile. Wenger was also part of the Swiss Association of Football Players "Golden 11" for the 2018/2019 seasons. The 2017 Big East Defensive Player of the Year helped lead Georgetown to the 2016 NCAA Tournament Quarterfinal, and to win the 2016-17 Big East Tournament. At Warwick High School, she was 2nd team LL-League All-Star in 2010 and First team in 2011.
Elizabeth has been the head coach for PMG's '06 girls from 2021-2022. She holds her U.S. Soccer Federation National D License and has been the Volunteer Assistant coach for Warwick H.S. Girls Soccer Team from 2020-present.
"We are thrilled to have Liz join our coaching staff," said Executive Director Stephanie Cleaves. "She is an excellent role model, who will lend her knowledge and expertise to positively impact the girls and women in our club!"
Stay tuned for more announcements and updates on Lancaster Inferno FC. For more information, visit lancasterinferno.com and connect with @LANCinferno on Facebook, Instagram, YouTube, and Twitter.