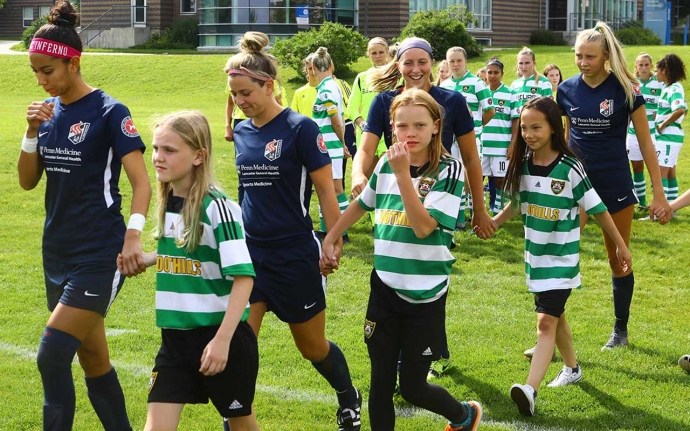 Lancaster Inferno's Impact on the Landscape of Women's Soccer
Lancaster, PA – The Lancaster Inferno has made huge strides as a club that goes beyond their national championship appearances the past two seasons. The club is also a founding member of United Women's Soccer (UWS) who recently announced an alliance with the men's pro league, National Independent Soccer Association (NISA). Joining forces, they are launching a Division 2 professional women's soccer league in 2022. The combined vision is to create greater opportunity, improved operations and merit-based advancement for women's clubs, players and leadership.
"This is a game changer for women's professional soccer, and I'm thrilled for young players and aspiring pros," said UWS Executive Director Stephanie Cleaves. "Two professional women's soccer leagues have never co-existed before in the United States. More professional opportunities will lead to the advancement of the women's game for organizations, players, their communities and supporters."
Will professional women's soccer potentially come to Lancaster or the surrounding area? That is a great question, as with the creation of this new league, there are now many more exciting possibilities in the world of women's soccer.
"Our goal, as an organization, is to create more opportunities for female soccer players and we will definitely explore the feasibility of our area supporting a professional team," said Inferno Soccer President and UWS CFO Francisco Cleaves. "We are waiting to get more specific details so we can seek potential investors."
In the meantime, Lancaster Inferno is working to prepare for their upcoming May-July season in the UWS national pro-am league. Coached by Francisco Cleaves and Rob Smith, the first team's roster features current/post collegiate players, a few high school standouts, along with former pros. Most of the club's players are local, but there are also some dedicated players who commute 2 hours each way for the opportunity to play with Lancaster Inferno in UWS.
The club now has a reserve team that will compete in UWS League Two, a new developmental league geared towards U20/23 players. The Inferno Reserves features current college players and high school standouts.
Another recent advancement to soccer in Lancaster is the launch of Lancaster Inferno's All-Girls Summer Select Program for U12-15 players. A select group of youth players will have the opportunity to train and learn first-hand from Lancaster Inferno's players and technical staff. College players and aspiring/former professionals on the team will lend their expertise in the game to a talented group of young players in the local area. To participate in this unique all-girls soccer program, players must attend tryouts and be selected for the team. It is open to girls U12-15 (2006 – 2009 birth years) – regardless of club affiliation. Selected players will be placed onto U12-13 combined and U14-15 combined teams. 
The tryout will take place on Sunday, March 7th from 3:30-5pm at Manheim Township Athletic Complex – 2883 Weaver Road, Lancaster, PA 17601. Due to the high level of interest, the club recently added a second tryout on Friday, April 16th from 6-7:30pm at the same venue location. For more information about Lancaster Inferno or to register for tryouts for the women's teams or Summer Select Program, visit the club's website at lancasterinferno.com.
"Our club shares the same vision as the league in creating opportunities for players via the pathway from the developmental league to the professional ranks," stated Francisco Cleaves. "We are excited about the future of women's soccer and our role in it."
ABOUT LANCASTER INFERNO
Based in Lancaster, PA, the Lancaster Inferno is a women's soccer club with teams competing in the UWS national pro-am league, and UWS League Two. As a non-profit, their mission is to advance women's soccer by establishing high caliber teams in partnership with businesses, soccer clubs, and supporters. The first team is back to back UWS East Conference Champions (2018 & 2019), 2019 UWS National Semifinalist & 2018 UWS National Runners-Up. For more information, visit Lancaster Inferno on their official website lancasterinferno.com and follow them on social media @LANCinferno.
ABOUT UNITED WOMEN'S SOCCER (UWS)
UWS is a national pro-am league of professionally-operated clubs within the United States & Canada. UWS provides high level competition for college players, aspiring & former professionals and international stars. The season runs from May until the end of July and culminates in a National Championship. Since the league's inception in 2016, UWS has filled the gap between the college & professional ranks and has over 17 NWSL draftees & 100 professional contracts to its name. For more information, visit the league's official website at UWSSoccer.com and follow them on social media @UWSsoccer.
ABOUT UWS LEAGUE TWO
United Women's Soccer (UWS) launched League Two in 2020 as a developmental pathway for U20/23 players. UWS League Two serves as the official league for UWS Reserve Teams. For new clubs, it provides an opportunity to introduce themselves to the standards-driven national pro-am league and can serve as a launch point for a UWS First Team. The season runs during the summer and teams play matches in a regional-friendly format. For more information, visit the league's official website at UWSSoccer.com/uws-league-two and follow them on social media @UWSLeague2.