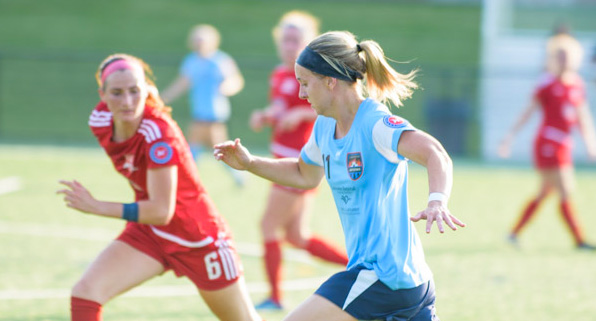 Inferno Alumni Success Story – Sydney Blomquist
A native of Baltimore, Maryland, Sydney Blomquist has played soccer since she was very young. Her youth club team was Freestate Soccer Alliance-Fury 93 and she played for Maryland ODP from 2005-2009. Prior to college, Sydney's biggest thrill in a soccer match involved scoring the winning goal with a PK in the state cup finals with her club team and then scoring the winning goal (another PK) for the her prep school's state title.
A four-year starter for Fallston High School, Sydney was named First Team All-Upper Chesapeake Bay, First Team All-County, and Second Team All-State in her senior year. Her high school had a strong team, winning the 2A State Championship during her junior year, and coming in as the 3A State Finalist when she was a sophomore. Sydney was a team captain and named as a "Player to Watch" by the Baltimore Sun.
Sydney had a successful freshman season at the University of Louisville, transferring to the University of Akron for her sophomore year. She finished her strong college career at Akron, graduating in 2015.
Sydney played with the Lancaster Inferno in 2014 and 2016, and was presented with an opportunity to play in Prague towards the end of the season. She had a successful trial with SK Slavia (UEFA women's champions league team) while in Prague, but another opportunity arose in Sweden. Sydney ultimately chose to sign with the Swedish club, Vasteras BK30 and thus began her professional career.
While playing with Vasteras BK30, Sydney was instrumental in helping the team win their league championship, which allowed them to be promoted to play in the Elitettan for 2017. She then signed to play with Åland United for the 2017 season and will be playing in the Naisten Liiga (the highest division in Finland).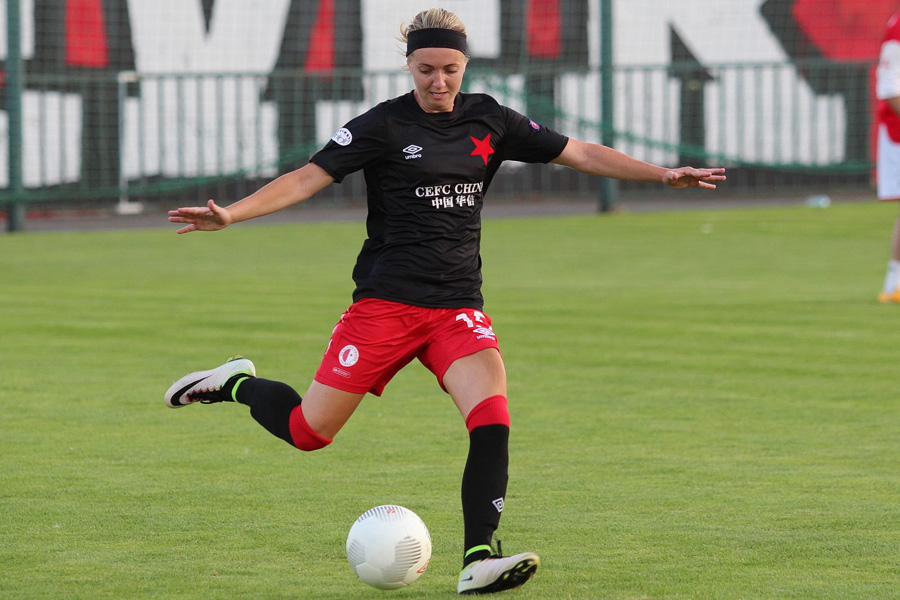 Q: What has your overall experience been moving from the US to the country (or countries) you are playing in?
Playing in Europe has been an amazing experience so far. It has provided me with the opportunity to continue growing not only as a player, but also a person. I'm very grateful be to living out my dream as a professional footballer and seeing the world in the process.
Q: What has been the biggest adjustment that you've had to make? food, culture, etc.
Adjusting to life in both Sweden and Finland has been pretty smooth – aside from some jetlag the first few days. The food is not that different from the US. In the beginning it was difficult to find what I was looking for at the grocery store. I was struggling to read labels and just hoping I was buying the right thing. But I quickly learned and can easily navigate my way around the aisles now. As far as culture goes, I've noticed that Swedes and Finns live active lifestyles and are extremely helpful. Lots of people choose to bike instead of driving.
Q: How is the game (soccer) different from what your experience in college and with the Inferno?
With Åland United, we are more focused on the tactical and technical aspects of the game. We have weekly meetings to go over what we are going focus on in our training sessions. We also look at game film so we can analyze and make adjustments. It's great to be able to watch and learn from our successes and failures. Training may not be as physically demanding as it was in college, but it is definitely more structured with a tactical purpose.
Q: How would you rank the level of play in your current team/league compared to previous experience
I'm still in preseason with my team and we haven't played in a game yet – so it's hard to evaluate the league yet. But knowing that we are in the highest division in Finland, I expect the quality of football to be strong and competitive. At this level, players are smart and skillful on the ball. I think it will be a great opportunity for me to challenge myself and play against the top players in Finland (and other international players)
Q: How have you handled the language difference?
I've been have been very lucky that the language barrier hasn't been as big of an adjustment as I thought it would be. Because there are many international players at ÅU (USA, England, Finland, Germany, Cameroon etc.), we use English as our team language on and off the pitch. Right now I'm living in Åland Island, a part of Finland that predominately speaks Swedish – so I'm currently taking Swedish classes twice a week for fun.
Q: What advice would you give other female players considering playing in Europe?
I would tell anyone who has the chance to play in Europe to go for it, take the offer. It's a rare opportunity and it can be very rewarding. It's difficult to be so far away from home for such a long period of time, but the experiences you'll have will make it all worth it. Reaching the professional level takes a lot of hard work and determination – if it's want you really want, don't ever give up.
Q: Is there anything else you would like to share with your fans?
I'd like to say thanks for all the love and support! I really appreciate the encouragement!