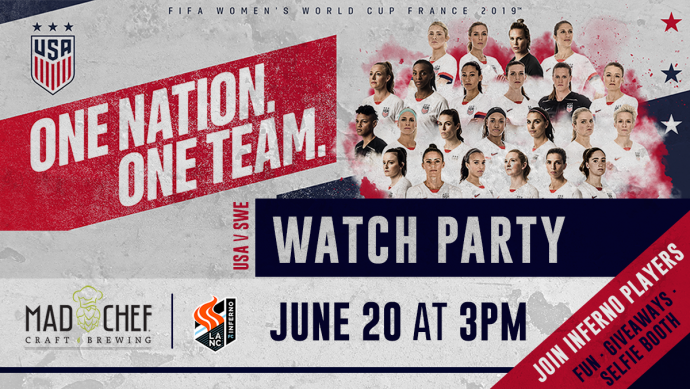 Mad Chef Women's World Cup Watch Party
Join Lancaster Inferno players and coaching staff for an insanely good time at Mad Chef Brewing Company on Thursday, June 20th to watch the USWNT take on Sweden. Doors open at 2:30pm for the 3:00pm game.
Despite the name, not much is off-kilter at Mad Chef. The food is absurdly creative and delicious, and the craft beer is irrationally well-balanced and flavorful. And if you're loco for soccer, it's the perfect place to watch the 2019 Women's World Cup!
We've got some crazy activities planned, including a photo wall with some wacky props. At half-time, we're going completely off our rocker, giving away door prizes from Mad Chef and Inferno.
Don't be a nut and miss this opportunity! You're going to go completely out of your mind with regret if you don't come out and watch this match with Inferno!
Be "committed" and RSVP at https://www.facebook.com/events/1957254697712074/ .
Mad Chef, located at 2023 Miller Rd in East Petersburg, PA, is a 3 year uniform sponsor of Lancaster Inferno.