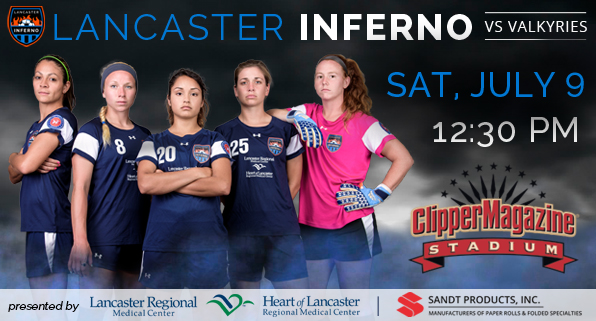 Inferno Playing at Clipper Stadium!
On July 9th, the Inferno will be hosting the North Jersey TSF Valkyries at Clipper Stadium in Lancaster at 12:30PM. There will also be a Youth Soccer Mini-Tournament with teams from Penn Manor Youth Soccer Club and Penn Legacy Youth Soccer Club with the championship game played at halftime. There are a lot of great door prizes and giveaways to the first 250 people attending!
The game is dedicated to Tony Forte of the Antonio Forte Transplant Fund Trust/Gift of Life. Tony has Hirschsprung's Disease, a rare digestive disease, that he has been fighting since birth. He has been on the transplant list for 6 years and is the poster child for Gift of Life. A portion of the proceeds from the game will be donated to Tony's trust fund. You can find more information about this cause on the Antonio Forte Transplant Fund Trust Facebook page.
Admission for the game is $7.50 for everyone above the age of 5. Children 5 years old or younger are free admission. CLICK HERE to order your ticket on the Barnstormer's website.
The Inferno would like to thank Lancaster Regional Medical Center/Heart of Lancaster and Sandt Products for their sponsorship of the team and their part in making this game possible.