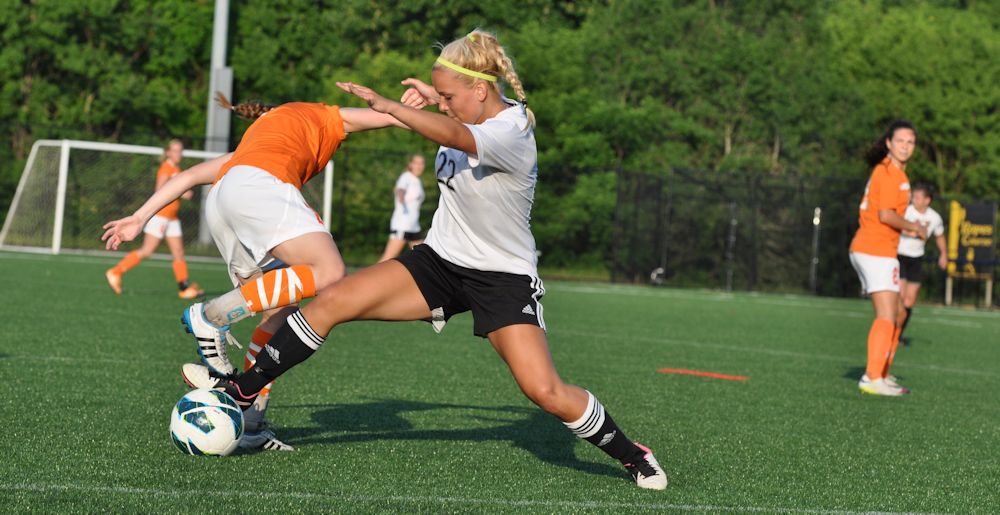 Inferno Wins 5-1 Over Torch
The Inferno had another exciting match for our second game of the season. We played Buxmont Torch at our home field, Pucillo Stadium at Millersville University.
Inferno dominated the first half with 8 shots on goal, compared to Buxmont's single shot on goal, but each goal attempt was stopped by Buxmont's keeper, Brittney Gadd. We ended the first half with a 0-0 tie.
Just thirty seconds into the second half Lancaster Inferno player, Stephanie Cleaves (#7), scored an unassisted goal in the upper 90. This seemed to energize the team, but our lead was quickly changed to a tie just a few minutes later when Torch player Shea Neal (#5) put the ball in the back of the net assisted by Mandy McCarty (#2).
Fifteen minutes later, Inferno center mid-fielder Teresa Rynier (#25) scored with an assist from Dana Sarcinello (#5). Five minutes later, Rynier received a pass from left mid-fielder Victoria Kramer (#3) and put the ball above Torch keeper Gadd for her second goal. Just three minutes later Rynier scored her third goal with an assist from center mid-fielder Trisha Clark (#8).
Inferno player Natalie Connell (#12) scored Inferno's final goal on a break-away just four minutes before the end of the game.
Torch also came on strong the second half, but our keeper, Emily Dolan, had a number of amazing saves, ensuring our team's victory. When the whistle was blown, Inferno had a 5-1 lead over Torch.
Both teams enjoyed an after-dinner meal at our team's Clubhouse Tellus360. The cameraderie was great and the food was awesome, thanks to our sponsors, New World Pasta and Cortazzo Foods.
Plan to come out to our next home game on June 13 at 1:00pm. We'll be playing New York Athletic Club (NYAC) and are planning some great entertainment!