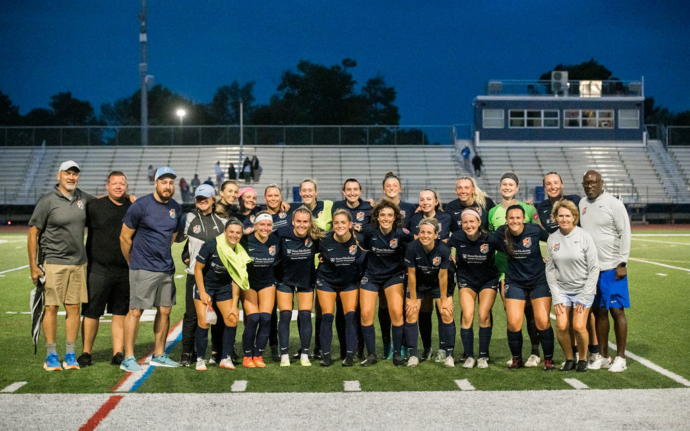 Lancaster Inferno Advances to UWS Final Four
Inferno won the East Conference Patriot Bracket Title and will make their third appearance at the National Championship
Lancaster, PA – Lancaster Inferno has punched their ticket to California to compete in the UWS National Championship semifinal this upcoming weekend. The 2023 National championship features the final four teams in the United Women's Soccer (UWS) national pro-am league. This is Lancaster Inferno's third national appearance as a final four team, previously finishing as finalist in 2018 and semifinalist in 2019.
The Team had an exciting 4-2 victory this past Saturday against the Eastern Conference's top seeded team, FC Buffalo in the Patriot Division final. The win secured their place at the National Championship which will take place July 22-23 in Santa Clarita, California.
The National Championship features top collegiate players, aspiring and former professionals, as well as national team players (U20 USWNT, U19 Czech Republic, Jamaica WNT, Canada WNT, Armenia WNT).
The three other teams in the event include Sporting CT (Middletown, CT), Michigan Jaguars (Novi, MI), and Santa Clarita Blue Heat (Santa Clarita, CA).
Lancaster Inferno will face host team Santa Clarita Blue Heat (2016 & 2021 National Champions) in the National Semifinal on Saturday, July 22 at 7:30pm PT. Blue Heat's standouts include Zoe Burns (UCLA/Canada WNT), Olufolasade Adamolekun (USC/Jamaica WNT), Ally Lemos (UCLA/U20 USWNT among others.
Lancaster Inferno features six returning players who competed at the National Championship with the team in previous seasons. Inferno's co-captains include professional soccer player Marissa DiGenova (PR Sol/Temple alum), former professional Teresa Rook (FH Hafnafjördur/JMU alum) and current Lehigh College standout Ryelle Shuey. Additional standouts include former professional Liz Wenger (Georgetown alum), 3x All American Maddie Mohr (Kutztown alum), and Jackie Richards (Campbell/Villanova), among many other talented players.
The team is led by former Inferno player and Assistant Coach, Stephanie Cleaves, in her first season as Head Coach. Additional coaching staff includes Assistant Coaches Mary Schanne, Rob Smith, and Wendell Hannaford, along with Goalkeeper Coach Kenny Archer, and Strength Coach Chris Weibel.
Lancaster Inferno is raising funds for the trip out West to represent Pennsylvania at the National Championship. If you'd like to support the team on this amazing opportunity, check out the following link. Our OG Inferno uniforms are for sale and there is a button to send a donation (any amount helps)!
https://lancasterinferno.com/national-championship-fundraiser/
Lancaster Inferno FC is a 501 (c)(3) Non-Profit organization with the mission to empower girls and women through the sport of soccer.
Watch the game live on ELEVEN Sports this Saturday, July 22 at 7pm PT/10 pm ET on the United Women's Soccer (UWS) ELEVEN Sports Channel: