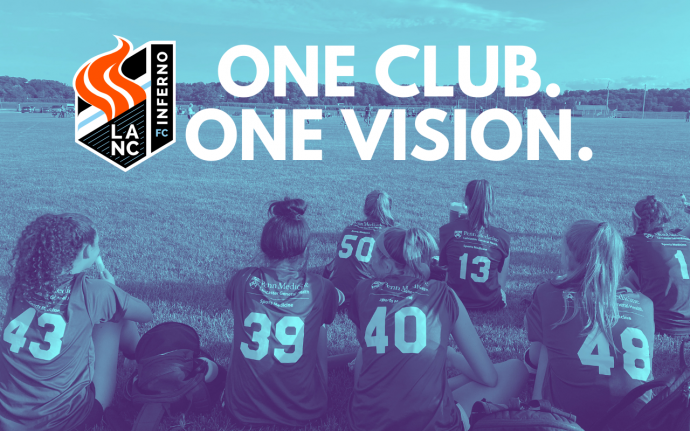 Lancaster Inferno launches all girls youth soccer club
Lancaster, PA – It's time to invest in girls and women in sport. Lancaster Inferno has lived out this truth by fielding two professionally operated women's soccer teams for several years. The teams have attracted top high school and college players in the region, and have seen 13 players move on to sign professional contracts overseas. The Inferno has also drawn in aspiring and former professionals, seeking to play at the highest level. Today, Lancaster Inferno announced that they will be launching an all girls youth soccer club set to begin play in August of 2022.
The mission of Lancaster Inferno is to empower girls and women through soccer, by focusing on individual development, dedication, and professionalism within a fun, challenging, and supportive environment. The overarching goal of the club is to be majority women-run, by actively seeking opportunities for aspiring women coaches and leaders.
In 2021, the Inferno hosted the first Lancaster-based all women's U.S. Soccer Federation (USSF) coaching course. In partnership with Eastern Pennsylvania Youth Soccer Association (EPYSA), Inferno players and surrounding women coaches took part in the course.
In addition, Lancaster Inferno launched a girls Summer Select program to offer a select group of elite youth players the opportunity to train and learn first-hand from Inferno players. The club is now entering its second year of Summer Select led by former professional Teresa (Rynier) Rook, who has played with Inferno's UWS team since its inception. More information on the Summer Select program can be found HERE.
"Through the evolution of Lancaster Inferno, the club has stayed true to its core values, finding more ways to offer opportunities to girls and women in soccer," said Lancaster Inferno President, Francisco Cleaves. "We are excited to expand our offerings to now include a year-round soccer club for girls. We envision the youth program to be the feeder system for our two pro-am teams, providing a path to future leaders in our sport."
For more information on Lancaster Inferno, visit their official website at lancasterinferno.com. Prospective youth players can fill out the following inquiry form. You can also connect with them on Facebook, Twitter, and Instagram. Stay tuned for more announcements regarding more details on the club.
ABOUT LANCASTER INFERNO:
Lancaster Inferno is a founding member team of United Women's Soccer (UWS) national pro-am league where they have competed since 2016. In order to create more playing opportunities for women athletes, the Inferno also launched a second team consisting of U23 players in 2018. Both teams have found great success, winning conference championships in the UWS national pro-am league and UWS League Two (UWS2).
The season runs from May through July, culminating in a national championship.
Inferno Soccer Corp is a 501(c)(3) organization