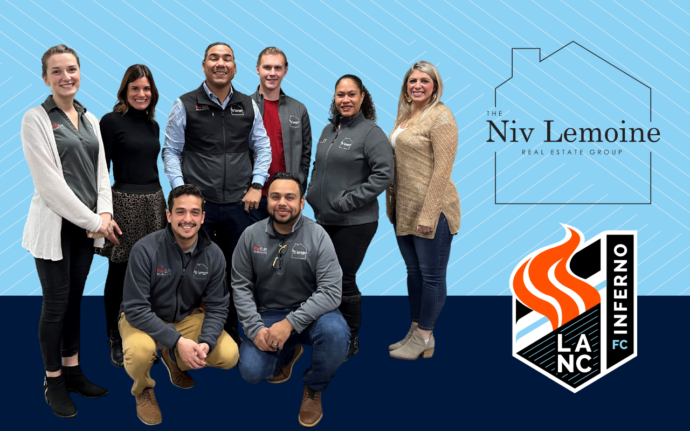 Sponsor Highlight: The Niv Lemoine Real Estate Group
The Niv Lemoine Real Estate Group joined the Inferno family as uniform sponsors for our girl's Summer Select program as well as sweatshirt sponsors for our Senior and U23 teams. Supporting women and girl's in sport is one of the countless things they do for their clients and the community.
We are proud to sponsor an organization that aligns with our beliefs and empowers and focuses on the growth of youth through sports. Our team has a special place in their hearts for working within the community and of course soccer, so we thought it would be a natural fit to align with Lancaster Inferno as they develop and pave the way for future soccer players throughout the region!"

Andrea Del Pielago, Inside Sales Agent with TNLREG
HOME BUYER
Any home buyer remembers that overwhelming feeling when they sign the closing papers, look at the final figure of the purchase price, and face the daunting task of moving. And if you're a first-time buyer it's even more stressful! Well, the Niv Lemoine Team wants to help take some of that stress off your shoulders. They don't just want to sell you a house — they work closely with their clients to ensure their comfort, education, and peace of mind throughout the entire transaction.
And it won't stop there! If you are a client you can count on them to be a resource for your future needs as well. They even recently started an initiative to keep the community informed about the local real estate market on a weekly basis in order to help with making those wise investment decisions.
LOCAL BUSINESS
If you're a business owner, you'll love the Niv Lemoine Real Estate Group, too! They are passionate about promoting the local small business community online via their website, blogs, and social media. They are also in the habit of pointing their clients in the direction of supporting small business through various giveaways and partnerships.
It's really not just about business with the Niv Lemoine Team. They partner with many local non-profit organizations, including "Homes for Hope". Homes for Hope is an organization based out of Lancaster that is committed to donating home-building projects to raise money to fight global poverty. You can find more information on this organization here.
WORKPLACE
If all of this seems like they are too good to be true, well, guess what? It gets even better! They recently were awarded second place in LNP's Best Workplaces in Lancaster County for 2021. This reflects the commitment of the company's President, and CEO, Niv Lemoine, to creating a healthy and happy work environment and giving back to his employees.
When you walk into the Niv Lemoine Real Estate Group office at 5139 Main St, in East Petersburg, you are immediately greeted with an infectious smile. The atmosphere is light and friendly and you can tell that these are all people that love what they are doing.
Finding a partner who works so diligently to improve our community is inspiring! We look forward to finding future opportunities to collaborate and help make our world a better place.

Julie Cleaves – Director of Operations & Business Development, Lancaster Inferno
ABOUT THE NIV LEMOINE REAL ESTATE GROUP
Core Values:
Christ Honoring
Honesty
Integrity
Punctuality
Service
Vision:
To be the Go-To Leaders in the local real estate industry by offering cutting edge expert consultation, world class customer service & Christ exalting community involvement!
Mission:
We exist to serve our clients by eliminating the stress & reducing the risk associated with buying, selling, investing in & managing real estate. We do this through expertise in our field, world class complementary services & strategic business partnerships all for the good of our clients and the glory of God!
Check out more about this wonderful company and the people that work there at https://www.nivrealestate.com/ or visit with them on social media: